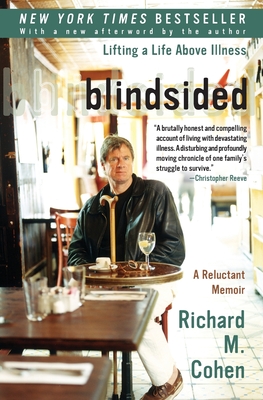 Blindsided (Paperback)
Lifting a Life Above Illness: A Reluctant Memoir
Harper Perennial, 9780060014100, 272pp.
Publication Date: February 1, 2005
* Individual store prices may vary.
Description
Richard Cohen, a veteran writer, producer and distinguished journalist, has lived with multiple sclerosis for over 25 years. Recently diagnosed again with colon cancer, Cohen describes his lifelong struggle with multiple sclerosis, his first bout with colon cancer, a loving marriage to Meredith Viera, the effect of illness on raising children, and the nature of denial and resilience, all told with grace, humour, and lyrical prose.
Cohen chronicles and celebrates a life brimming over with accomplishment, adversity and personal endeavour and his story has struck a chord with readers nation–wide. He has been interviewed by Barbara Walters for a nearly hour–long segment that ran on 20/20, he also appeared on wife Viera's program, The View and is scheduled for Charlie Rose, Larry King Live, Good Morning America, and the Paula Zahn Show, among others. Blindsided also received outstanding print attention and People magazine has run a first serial piece.
Autobiographical at its roots, reportorial and expansive, Blindsided builds on Cohen's story as a task aimed at emotional well–being, if not survival, pursued in sober tones that explore coping to its most redemptive and complex levels. Despite his extreme circumstances, Cohen's is a common struggle, recognisable as an integral part of humanity, and one which he explores with varying amounts of diligence, respect, personal revelation and humour.
About the Author
Richard M. Cohen's distinguished career in journalism earned him numerous awards, including three Emmys and a George Foster Peabody Award. He lives outside New York City with his wife, Meredith Vieira, and their three children.
Praise For Blindsided: Lifting a Life Above Illness: A Reluctant Memoir…
"[A] powerful memoir, tough in the way Cohen's old news bosses would have wanted it to be tough."
— New York Times Book Review

"...a warm, sarcastic, unflinching dissection of love, pain, laughter and wounded pride."
— Chicago Tribune

"Eloquent and brutally honest."
— Seattle Times

"With aplomb and high character [Cohen] lays out…lessons in unflappable prose…. A sharp and affecting piece of perspective-setting."
— Kirkus Reviews

"A powerful and agonizingly frank description of a life with which many chronically ill people and their families will identify."
— Library Journal (starred review)

"Blindsided is beautifully written and utterly honest. May we all be so brave and caring in our own families."
— Tom Brokaw

"I cannot remember ever being more profoundly moved by any book I have ever read.…Don't miss this book."
— Beverly Sills

"[Blindsided] paints an incredibly sharp picture of what it is like to live passionately—with joy, love, and anger."
— Dr. Harold Varmus, President, Memorial Sloan-Kettering Cancer Center and Former Director, National Institutes of Health