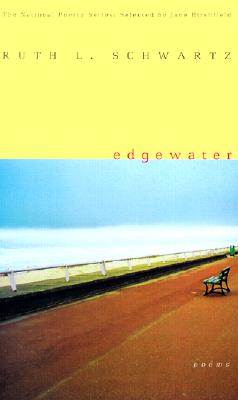 Edgewater (Paperback)
Poems (National Poetry Series)
Harper Perennial, 9780060082536, 128pp.
Publication Date: July 23, 2002
* Individual store prices may vary.
Description
"In Edgewater, her powerfully moving and redemptive third collection, Ruth L. Schwartz writes with consummate passion, precision, and honesty of the raw hungers that give rise to the world, human and natural. In poems both lyrical and grit-laced, she grapples with her twofold, central question: How can we love fully, open-eyed and openhearted amid all the flaws and beauty, each other and the world? How could we not?" -- Jane Hirshfield
"Ruth L. Schwartz will settle for nothing less than the essential. Her passionate poems are alive to the vulnerability of the body, the daily possibility of joy, and the deep struggle not only to make sense of, but to affirm a world where the terrorists 'opened fire: / as if it were a box, now cracked, / consuming its own lid and hinges, / sparking out, unstoppable, / into the tender, / flammable world. . . "' -- Mark Doty
"Ruth L. Schwartz has reached a level of poetic maturity that we're used to seeing only in the best of our American poetry.... She assumes a public voice in these poems, which speak to us rather than at us in the way they offer moral solutions to the problems of our modern world. She does this ... by reaching after and trying to understand the natural world and her place therein, and by modulating her poems with a subtle, ghostly music which has the capacity to lull us into understanding more about ourselves and about the wonderful ambiguities of living life,most fully." -- Bruce Weigl
About the Author
Ruth L. Schwartz was born in 1962 and spent her childhood and early adulthood moving around the United States. She left home at age sixteen, received her B.A. from Wesleyan University and her M.F.A. from the University of Michigan, then settled in the San Francisco Bay Area in 1985. She worked as an AIDS educator for many years, and has taught creative writing at Cleveland State University and Goddard College. She teaches at California State University, Fresno.
Schwartz's first book, Accordion Breathing and Dancing, won the 1994 Associated Writing Programs Award and was published by the University of Pittsburgh Press in 1996. Her second book, Singular Bodies, won the 2000 Anhinga Prize for Poetry and was published by Anhinga Press in 2001.
Schwartz has received fellowships from the National Endowment for the Arts, the Ohio Arts Council, and the Astraea Foundation. Her other honors and awards include two Nimrod/Pablo Neruda Awards, two Chelsea Awards for Poetry, the New Letters Literary Award, the North Carolina Writers' Network Randall Jarrell Prize, Kalliope magazine's Sue Saniel Elkind Award, and a Reader's Choice Award from Prairie Schooner.
Praise For Edgewater: Poems (National Poetry Series)…
Ruth Schwartz writes with consummate passion, precision, and honesty of the raw hungers that give rise to the world....
— Jane Hirshfield

Ruth L. Schwartz will settle for nothing less than the essential.
— Mark Doty

...a level of poetic maturity that we're used to seeing only in the best of our American poetry....
— Bruce Weigl, author of The Circle of Hanh