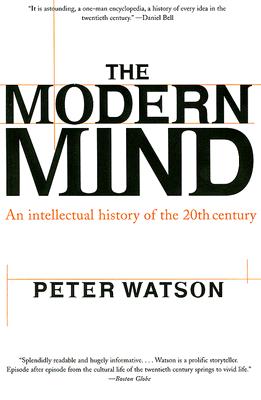 Modern Mind
An Intellectual History of the 20th Century
Paperback

* Individual store prices may vary.
Description
From Freud to Babbitt, from Animal Farm to Sartre to the Great Society, from the Theory of Relativity to counterculture to Kosovo, The Modern Mind is encyclopedic, covering the major writers, artists, scientists, and philosophers who produced the ideas by which we live. Peter Watson has produced a fluent and engaging narrative of the intellectual tradition of the twentieth century, and the men and women who created it.
Harper Perennial, 9780060084387, 864pp.
Publication Date: July 23, 2002
About the Author
Peter Watson has been a senioreditor at the London Sunday Times, a New York correspondentof the London Times, a columnist for theLondon Observer, and a contributor to the New YorkTimes. He has published three exposés on the world ofart and antiquities, and is the author of several booksof cultural and intellectual history. From 1997 to 2007he was a research associate at the McDonald Institutefor Archaeological Research at the University of Cambridge.He lives in London.