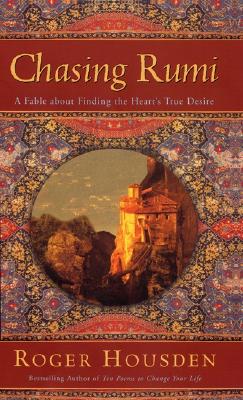 Chasing Rumi
A Fable about Finding the Heart's True Desire
Hardcover

* Individual store prices may vary.
Description
Stirred by the potent poetry of Sufi mystic Rumi, a restless young man embarks on a life altering pilgrimage.
This enchanting story, set in the late 1940s, takes us from the hills and piazzas of Florence to the green- domed mosques of Konya, Turkey. Upon discovering a poem by the Sufi dervish Jelaluddin Rumi, Georgiou, a young Greek icon painter, is compelled to travel to the land that this poet called home. Inspired by Rumi's magical words, Georgiou leaves his father and their small business in Italy to recapture the power of an early childhood vision. Having experienced a divine connection with a painting as a boy, he seeks to reconnect with the essence of that first transcendent feeling.
Through encounters with Christian and Islamic mystics, Georgiou learns to hear his own voice calling and understand what we all eventually learn - that life is a mystery. The closer he gets to Konya, the keener his perceptions become. But it is not until his arrival that he understands ⳨ at earthly and spiritual love, when they are total and without reserve, become one and the same⪠ and Georigiou's life is changed forever.
Praise For Chasing Rumi: A Fable about Finding the Heart's True Desire…
"Lyrically written, this surrealistic affirmation of life and love will enthrall and inspire readers seeking spiritual nourishment."
-Booklist

"A jewel of a book. Both delicious and simple, Chasing Rumi has all the makings of a classic."
-Jack Kornfield, author of A Path With Heart and After the Ecstasy, the Laundry

"Housden's prose is quietly elegant, sparse yet lyrical--perfect for this love letter to a master poet."
-NAPRA ReView
HarperOne, 9780060084455, 144pp.
Publication Date: October 1, 2002
or
Not Currently Available for Direct Purchase