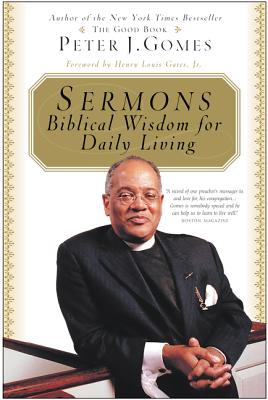 Sermons: Biblical Wisdom for Daily Living (Paperback)
Biblical Wisdom for Daily Living
HarperOne, 9780060088316, 256pp.
Publication Date: April 30, 2002
Description
The man Time magazine hailed as one of America's finest preachers presents a collection of forty timeless addresses to guide us through the year. With his characteristic eloquence and compassion, quoting from scripture as well as from T.S. Eliot and Woody Allen, Gomes offers us the tools we need to understand the wisdom of the Bible and the joy and inspiration it can bring to everyday life.
Praise For Sermons: Biblical Wisdom for Daily Living…
"Alternately bracing and soothing, these short pieces are a wonderful way to begin or end each day."
-David Gergen,.Editor at Large, U.S. News & World Report

"Provocative in his delivery, dazzling in his alliteration ... he can string words together in ways that penetrate right down deep."
-Alan K. Simpson, former U.S. Senator

"...One of the most dedicated, knowledgeable, articulate, and persuasive spokesmen for the Christian religion in the present secular age.."
-Nathan Marsh Pusey, President Emeritus, Harvard University

"With great learning and wit, Reverend Peter J. Gomes stirs our souls and stimulates our minds ..."
-James O. Freedman, President, Dartmouth College
Advertisement