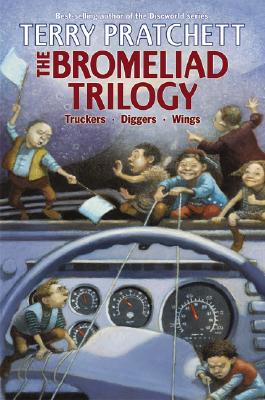 The Bromeliad Trilogy (Hardcover)
Truckers, Diggers, and Wings
HarperCollins, 9780060094935, 512pp.
Publication Date: September 30, 2003
Other Editions of This Title:
Paperback (4/13/2004)
* Individual store prices may vary.
Description
In a world whose seasons are defined by Christmas sales and Spring Fashions, hundreds of tiny nomes live in the corners and crannies of a human-run department store. They have made their homes beneath the floorboards for generations and no longer remember -- or even believe in -- life beyond the Store walls.
Until the day a small band of nomes arrives at the Store from the Outside. Led by a young nome named Masklin, the Outsiders carry a mysterious black box (called the Thing), and they deliver devastating news: In twenty-one days, the Store will be destroyed.
Now all the nomes must learn to work together, and they must learn to think -- and to think BIG.
Part satire, part parable, and part adventure story par excellence, master storyteller Terry Pratchett's engaging trilogy traces the nomes' flight and search for safety, a search that leads them to discover their own astonishing origins and takes them beyond their wildest dreams.
About the Author
Sir Terry Pratchett was the internationally bestselling author of more than thirty books, including his phenomenally successful Discworld series. His young adult novel, The Amazing Maurice and His Educated Rodents, won the Carnegie Medal, and Where's My Cow?, his Discworld book for "readers of all ages," was a New York Times bestseller. His novels have sold more than seventy five million (give or take a few million) copies worldwide. Named an Officer of the British Empire "for services to literature," Pratchett lived in England. He died in 2015 at the age of sixty-six.
Praise For The Bromeliad Trilogy: Truckers, Diggers, and Wings…
"Fascinating and funny."
— The Horn Book

"Witty, funny, wise and altogether delightful."
— Locus

"A delicious, rewarding, wry and antic fable." —Harlan Ellison "A rollicking good story."
— Kirkus Reviews

"Terry Pratchett has created a wild adventure, a fable, a fantasy, an elegant satire." – Lloyd Alexander
— Lloyd Alexander

"Pratchett gives his cast plenty of personality and fuels the plot with nonstop comedy."
— Kirkus Reviews

"A wry tongue-in-cheek fantasy…which unhesitatingly lampoons the ingrained habits and complacent attitudes found in any society."
— ALA Booklist