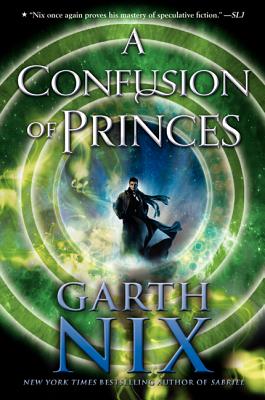 A Confusion of Princes (Paperback)
HarperCollins, 9780060096960, 352pp.
Publication Date: May 14, 2013
* Individual store prices may vary.
Description
Garth Nix, bestselling author of the Keys to the Kingdom series and Shade's Children, combines space opera with a coming-of-age story in his YA novel A Confusion of Princes.
 
Superhuman. Immortal. Prince in a Galactic Empire. There has to be a catch….
 
Khemri learns the minute he becomes a Prince that princes need to be hard to kill—for they are always in danger. Their greatest threat? Other Princes. Every Prince wants to become Emperor and the surest way to do so is to kill, dishonor, or sideline any potential competitor. There are rules, but as Khemri discovers, rules can be bent and even broken.
 
There are also mysteries. Khemri is drawn into the hidden workings of the Empire and is dispatched on a secret mission. In the ruins of space battle, he meets a young woman, called Raine, who challenges his view of the Empire, of Princes, and of himself. But Khemri is a Prince, and even if he wanted to leave the Empire behind, there are forces there that have very definite plans for his future.
About the Author
Garth Nix was born in 1963 in Melbourne, Australia. A full-time writer since 2001, he has worked as a literary agent, marketing consultant, book editor, book publicist, book sales representative, bookseller, and part-time soldier in the Australian Army Reserve. Garth's books include the award-winning fantasy novels Sabriel, Lirael, and Abhorsen; Clariel, a prequel in the Abhorsen series; the cult favorite teen science fiction novel Shade's Children; and his critically acclaimed collection of short stories, To Hold the Bridge. His fantasy novels for younger readers include The Ragwitch, the six books of the Seventh Tower sequence, the Keys to the Kingdom series, and A Confusion of Princes. His books have appeared on the bestseller lists of the New York Times, Publishers Weekly, the Guardian, and the Australian, and his work has been translated in forty languages. He lives in Sydney, Australia, with his wife and two children.
Praise For A Confusion of Princes…
Space battles! Political intrigue! Engineered warriors! Techno-wizardry! Assassins! Pirates! Rebels! Duels! Secrets, lies, sex and True Love! What more can anybody ask for?
— Kirkus Reviews (starred review)

Nix's fantasy has enough gadgets, escapes, battles, duels, deaths, and near-death experiences to keep die-hard adventure story readers enthralled. Happily, Khemri is also a thoughtful, winsome, and somewhat complex character, and his cheerfully self-deprecating tone and unpredictable choices make this romp entertaining on multiple levels.
— Horn Book (starred review)

Nix once again proves his mastery of speculative fiction [as] he manages to tell a tale that is grand in scope with vivid characters and imaginative technology.
— School Library Journal (starred review)

[An] exciting space opera.
— Publishers Weekly

Khemri's first person point of view, along with a fast-paced, action- and plot-driven story, is sure to appeal to fans of the Star Wars universe and any number of first-person shooter video games.
— ALA Booklist

Garth Nix's A CONFUSION OF PRINCES is YA FOUNDATION meets DUNE.
— Tor.com

"Exuberant and insightful. The rocket-powered pace and epic world-building provide an ideal vehicle for what is, at heart, a sweet paean to what it means to be human."—
— Kirkus Reviews (starred review)