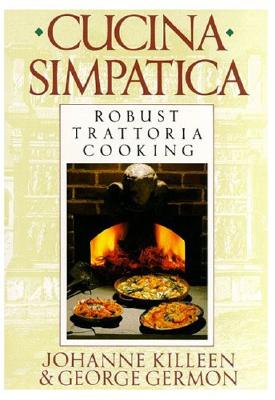 Cucina Simpatica (Hardcover)
Robust Trattoria Cooking From Al Forno
William Morrow Cookbooks, 9780060161194, 224pp.
Publication Date: May 8, 1991
* Individual store prices may vary.
Description
Cucina Simpatica brings to home cooks the luscious, lusty food of Al Forno, the acclaimed restaurant in Providence, Rhode Island. Since opening Al Forno in 1980, owners-chefs Johanne Killeen and George Germon have won a loyal following, rave reviews, and many awards for their superb food.
The recipes reflect their down-to-earth style of hearty yet simple trattoria and Italian home cooking. Included are detailed instructions for making their renowned grilled pizza. While Cucina Simpatica is organized by courses—from starters, soups, salads, bruschetta, crostinis, and polenta to pizzas, pastas, grills, roasts, braises, vegetables, and desserts—the authors urge readers to be flexible and make their own choices. A grilled pizza accompanied by a small salad may suffice for dinner. Pasta can be served in small portions as a first course or in larger amounts as the focus of the meal. A platter of roasted vegetables makes a fine meatless meal.
Cucina Simpatica inspires home cooks to prepare the rustic, robust Italian-style food from one of America's finest restaurants.
About the Author
Johanne Killeen and George Germon are the award-winning chefs and owners of Al Forno Restaurant in Providence, Rhode Island. They are also the authors of On Top of Spaghetti . . . Macaroni, Linguine, Penne, and Pasta of Every Kind.