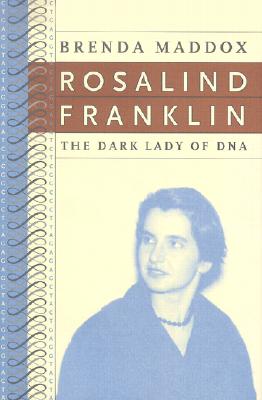 Rosalind Franklin
The Dark Lady of DNA
Hardcover

* Individual store prices may vary.
Other Editions of This Title:
Paperback (9/30/2003)
Description
In March 1953, Maurice Wilkins of King's College, London, announced the departure of his obstructive colleague Rosalind Franklin to rival Cavendish Laboratory scientist Francis Crick. But it was too late. Franklin's unpublished data and crucial photograph of DNA had already been seen by her competitors at the Cambridge University lab. With the aid of these, plus their own knowledge, Watson and Crick discovered the structure of the molecule that genes are composed of -- DNA, the secret of life. Five years later, at the age of thirty-seven, after more brilliant research under J. D. Bernal at Birkbeck College, Rosalind died of ovarian cancer. In 1962, Wilkins, Crick and Watson were awarded the Nobel Prize for their elucidation of DNA's structure. Franklin's part was forgotten until she was caricatured in Watson's book The Double Helix.
In this full and balanced biography, Brenda Maddox has been given unique access to Franklin's personal correspondence and has interviewed all the principal scientists involved, including Crick, Watson and Wilkins.
This is a powerful story, told by one of the finest biographers, of a remarkably single-minded, forthright and tempestuous young woman who, at the age of fifteen, decided she was going to be a scientist, but who was airbrushed out of the greatest scientific discovery of the twentieth century.
Praise For Rosalind Franklin: The Dark Lady of DNA…
"Maddox does justice to her subject as only the best biographers can."
— Los Angeles Times Book Review

"Lively, absorbing and even handed … What emerges is the complex portrait of a passionate, flawed, courageous women."
— Washington Post Book World

"Brenda Maddox has done a great service to science and history."
— San Francisco Chronicle Book Review

"Thoughtful and engaging."
— Chicago Tribune

"A sensitive, sympathetic look at a women whose life was greater than the sum if its parts."
— New York Times Book Review

"An excellent biography … Maddox's account of Franklin's last years and premature death is moving and poignant."
— Women's Review of Books

"In this sympathetic biography, Maddox …illuminates her subject as a gifted scientist and a complex woman."
— Publishers Weekly

"Able, balanced and well researched."
— Science

"Maddox does an excellent job of revisiting Franklin's scientific contributions while revealing her complicated personality."
— Library Journal

"A finely crafted biography."
— Booklist

"A gripping yet nuanced account … a magnificent biography."
— The Independent

"A joy to read."
— Sunday Telegraph

"A meticulous biography…[Rosalind Franklin] was the unacknowledged heroine of DNA, the Sylvia Plath of molecular biology."
— The Economist

"A vivid three-dimensional portrait of a sciencetist and human being … a moving biography."
— Daily Telegraph (London)
Harper, 9780060184070, 400pp.
Publication Date: October 1, 2002
About the Author
Brenda Maddox is an award-winning biographer whose work has been translated into ten languages. Nora: A Biography of Nora Joyce, won the Los Angeles Times Book Prize for Biography, the Silver PEN Award, and the French Prix du Mailleur Livre Etranger. Her life of D. H. Lawrence won the Whitbread Biography Award in 1974, and Yeats's Ghosts, on the married life of W. B. Yeats, was shortlisted for the Samuel Johnson Prize in 1998. She has been Home Affairs Editor for the Economist, has served as chairman of the Association of British Science Writers and is a member of the Royal Society's Science and Society Committee. She lives in London and Mid-Wales.
or
Not Currently Available for Direct Purchase