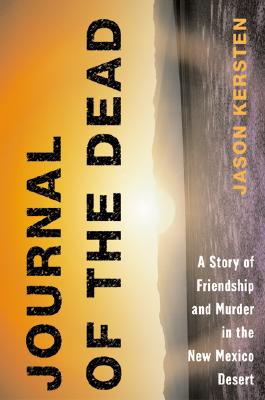 Journal of the Dead
A Story of Friendship and Murder in the New Mexico Desert
Hardcover

* Individual store prices may vary.
Other Editions of This Title:
Paperback (7/27/2004)
Description
I killed and buried my best friend today. . . . He turned to me and begged that I put a knife through his chest. I did, and a second time when he wouldn't die. . . . God and his family and mine, please forgive me.
In the summer of 1999, best friends Raffi Kodikian and David Coughlin headed off on an American rite of passage -- a cross-country trek in the spirit of Jack Kerouac's On the Road. The two stopped for a simple overnight sleep-out trip in Carlsbad Caverns National Park, carrying barely adequate camping supplies, only three pint bottles of water, and a journal to record their experiences. After they awoke the next morning in Rattlesnake Can-yon, however, the friends' adventure quickly took a turn for the worse when they were unable to find their way back out of the canyon. The journal they left behind chronicles their increasingly desperate search for help, as each new path ended in frustration, and buzzards began to circle overhead.
Four days after they entered the canyon, help arrived. Rescuers found Kodikian dehydrated but alive. When he was asked where Coughlin was he pointed to a pile of stones: "Over there . . . I killed him," he said.
David Coughlin had been stabbed twice in the heart. Had there been a darker motive than mercy? And how could anyone, under any circumstances, kill his best friend?
Armed with the journal Kodikian and Coughlin carried into Rattlesnake Canyon, Jason Kersten re-creates in riveting detail those fateful days that led to the killing in an infamously unforgiving wilderness. Through in-depth interviews and profiles, he presents the key players in Kodikian's case and examines the ongoing controversy of an instance of murder that captured national headlines. Jason Kersten's Journal of the Dead is at once a true-crime mystery set in the wild, an exploration in moral ambiguity, and a compas-sionate portrait of a friendship's tragic end.
Praise For Journal of the Dead: A Story of Friendship and Murder in the New Mexico Desert…
"Wholly absorbing...Tells the story of Coughlin and Kodikian with quiet authority, lending unexpected dignity to the whole affair."
— New York Times Book Review

"A brilliant new book...in the great nonfiction tradition of Jon Krakauer's Into the Wild."
— Advertising Age

"A taut, expertly researched true-crime narrative."
— Boston Herald

"A powerful story ... one hell of a fascinating ride."
— National Geographic Adventure

"Five stars. As tough to put down as Jon Krakauer's Into the Wild."
— Maxim

"Addictive."
— Time Out New York

"A gripping, readable tale"
— Austin American-Statesman

"A fascinating case, a fascinating book."
— Anderson Cooper, CNN

"Fascinating"
— Oregonian

"A story that is inherently interesting."
— Rocky Mountain News

"Deftly penned by Jason Kersten, a rising star in the journalism world ... resounding [and] unforgettable."
— Denver Westword

"One of those rare books that the reader will be compelled to read in a single sitting...It's that good."
— Tulsa World

Kersten's well-crafted narrative is light and briskly paced, replete with local desert color
— Booklist

"A riveting story, a page turner, a book that I couldn't put down."
— Lawrence Schiller, author of Perfect Murder, Perfect Town

"A true American tragedy, beautifully written."
— Tony Hillerman, author of The Sinister Pig

"A brilliantly crafted exploration of a profoundly human mystery."
— Victoria Bruce, author of No Apparent Danger
Harper, 9780060184704, 256pp.
Publication Date: July 29, 2003
About the Author
Jason Kersten is a freelance journalist whose articles have appeared in Rolling Stone and Men's Journal, as well as other magazines. He holds a master's degree from Columbia University's Graduate School of Journalism and lives in New York City.
or
Not Currently Available for Direct Purchase