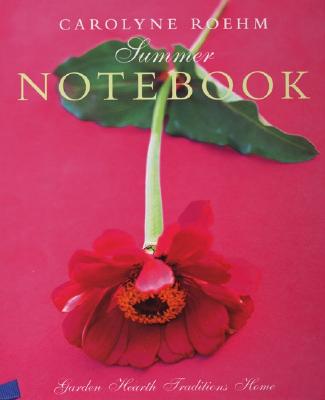 Carolyne Roehm's Summer Notebook (Hardcover)
Harper, 9780060193874, 144pp.
Publication Date: April 20, 1999
* Individual store prices may vary.
Description
The Notebook
A seasonal scrapbook of gardening methods, recipes and tabletop designs.
Hands-on workbook format with pockets for clippings and graph paper for plans.
Tips on holiday festivities and decorating ideas with pages for notes.
Full-color instructions to creat magnificent bouquets from the summer garden.
Lists of favorite perennials and annuals for grow-your-own arrangments.
About the Author
Carolyne Roehm, noted author and lifestyle contributor to Good Morning America, brings her gardening expertise to viewers weekly as the host of Country Homes, Country Gardens.
In 1991, Roehm, who had always taken great pleasure in indulging and surrounding herself with things she loved, decided to turn her personal passion for beauty and comfort into a fulfilling career. A longtime associate (and neighbor) of famed couturier, Oscar de la Renta, Roehm began her own fashion business, setting her designs apart from many others in the industry with her unflagging insistence on only the finest quality materials. Her designs quickly found a home with discriminating consumers, as her first year alone saw revenues exceeding $3 million. But Roehm's passion for beauty extended beyond the world of fashion, and she became determined to broaden her horizons accordingly.
Following a stint at the famed Paris flower shop, Moulie Savart, Roehm took the knowledge she gained there and put it into practical use for the everyday gardener. Resulting from her considerable experience, she takes great joy in revealing the many secrets she learned to help everyone achieve a bountiful and beautiful garden.
In 1997, Roehm published her first book, A Passion for Flowers (September 1997, HarperCollins Publishers) in which she detailed the experts' tricks to perfect gardening. A firm believer in luxury for everyone, Roehm feels that luxury doesn't necessarily mean expensive. Her breathtaking floral arrangements, for example, traditionally contain many common flowers such as carnations, marigolds, bleeding hearts, and Queen Anne's lace, which she collects from her own garden at her Connecticut home.
Roehm applies the fashion lessons she learned to her flowers. The familiar cry of "accessorize" is as important to arranging blooms as it is to one's own appearance. "I can't tell you how often I've seen a dress ruined with the wrong accessories," Roehm explains. "It's the same with flowers. Even the most beautiful flowers don't work if they're in the wrong vase or placed against the wrong background."
or
Not Currently Available for Direct Purchase