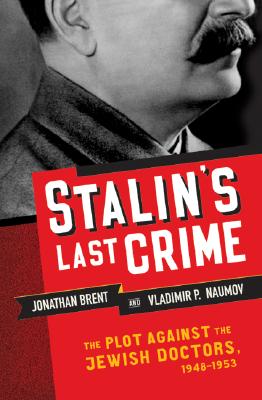 Stalin's Last Crime (Hardcover)
The Plot Against the Jewish Doctors, 1948-1953
Harper, 9780060195243, 416pp.
Publication Date: April 8, 2003
Other Editions of This Title:
Paperback (2/17/2004)
* Individual store prices may vary.
Description
A new investigation, based on previously unseen KGB documents, reveals the startling truth behind Stalin's last great conspiracy.
On January 13, 1953, a stunned world learned that a vast conspiracy had been unmasked among Jewish doctors in the USSR to murder Kremlin leaders. Mass arrests quickly followed. The Doctors' Plot, as this alleged scheme came to be called, was Stalin's last crime.
In the fifty years since Stalin's death many myths have grown up about the Doctors' Plot. Did Stalin himself invent the conspiracy against the Jewish doctors or was it engineered by subordinates who wished to eliminate Kremlin rivals? Did Stalin intend a purge of all Jews from Moscow, Leningrad, and other major cities, which might lead to a Soviet Holocaust? How was this plot related to the cold war then dividing Europe, and the hot war in Korea? Finally, was the Doctors' Plot connected with Stalin's fortuitous death?
Brent and Naumov have explored an astounding arra of previously unknown, top-secret documents from the KGB, the presidential archives, and other state and party archives in order to probe the mechanism of on of Stalin's greatest intrigues -- and to tell for the first time the incredible full story of the Doctors' Plot.
About the Author
Jonathan Brent, editorial director of Yale University Press and founder of its distinguished Annals of Communism series, holds a Ph.D. from the University of Chicago and is writing a biography of the Soviet Jewish writer Isaac Babel.
Vladimir P. Naumov, a professor of history, has been executive secretary of the Presidential Commission for the Rehabilitation of Repressed Persons in Moscow since its inception under former president Mikhail Gorbachev.
or
Not Currently Available for Direct Purchase