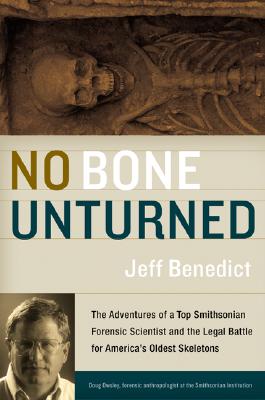 No Bone Unturned
The Adventures of a Top Smithsonian Forensic Scientist and the Legal Battle for America's Oldest Skeletons
Hardcover

* Individual store prices may vary.
Other Editions of This Title:
Paperback (4/13/2004)
Description
When he's not at a notorious disaster, Doug Owsley is entering tombs and crypts, unwrapping mummies, or climbing into caves to unlock the secrets of bones.
In No Bone Unturned, investigative journalist Jeff Benedict not only unveils a compelling portrait of the man behind America's most notorious cases but also gives us a fascinating look inside the world of forensic science as seen through the eyes of a leading specialist.
Doug Owsley's extraordinary talent has put his phone number on speed dial for federal agencies, from the FBI to the CIA and the State Department. When the Branch Davidian compound in Waco caught fire, when a terrorist-flown plane crashed into the Pentagon, and when mass graves were uncovered in Croatia, the authorities called Owsley. Through cutting-edge science, instinctive artistry, and dogged tenacity, Owsley painstakingly rebuilds the skeleton, and helps identify it and determine the cause of death.
A curator for the Smithsonian's Museum of Natural History, Doug Owsley has handled over ten thousand human skeletons, more than anyone else in America. He has worked with America's historic skeletons, from, colonial Jamestown burials to Plains Indians to Civil War soldiers to skeletons tens of thousands of years old.
That includes the Kennewick Man, a 9,600-year-old human skeleton found in shallow water along the banks of Washington State's Columbia River. It was a skeleton that would turn Owsley's life upside down.
Days before Owsley was scheduled to begin studying the skeleton, the U.S. Army Corps of Engineers seized it and announced they would repatriate Kennewick Man, burying his bones on the land of the Native American tribes who claimed him. Along with seven of America's leading scientists, Owsley sued the U.S. government over custody. At stake was a wide body of knowledge about our past and our history that would be lost forever if the bones were reburied. For six years, Owsley fought a legal and political battle that put everything at risk, jeopardizing his career and his reputation.
Praise For No Bone Unturned: The Adventures of a Top Smithsonian Forensic Scientist and the Legal Battle for America's Oldest Skeletons…
"Compelling… [Owsley]…risked his job and his reputation in the name of science."
— Chicago Tribune

"Appealing…Beneduct skillfully takes the reader into the world of the bone detective."
— Hartford Courant
Harper, 9780060199234, 320pp.
Publication Date: March 25, 2003
About the Author
Jeff Benedict conducted the first national study on sexual assault and athletes. He has published three books on athletes and crime, including a blistering exposé on the NFL, Pros and Cons: The Criminals Who Play in the NFL, and Public Heroes, Private Felons: Athletes and Crimes Against Women. He is a lawyer and an investigative journalist who has written five books.
or
Not Currently Available for Direct Purchase