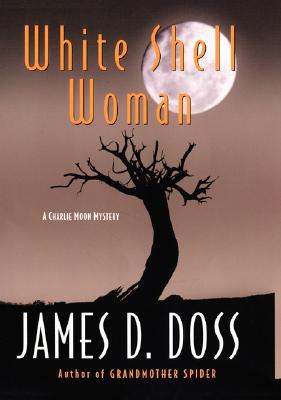 White Shell Woman
A Charlie Moon Mystery
Hardcover

* Individual store prices may vary.
Other Editions of This Title:
Mass Market (12/3/2002)
Compact Disc (10/6/2020)
MP3 CD (11/17/2015)
Description
Charlie Moon is treading on sacred ground...and he may live to regret it. The two sandstone monoliths -- a pair of massive natural giants towering over the southern Colorado landscape -- that stand before the hulking, good-natured former policeman turned rancher are wrapped in rich tribal lore and dark, ancient mystery. To the local Navajo, Pueblo, and Ute, they are the Twin War Gods, sons of the moon goddess White Shell Woman. Legends tell of strange happenings in their shadows, whispered tales of fire and famine, lost treasure, and blood sacrifice. But it is a much more recent history that troubles Charlie Moon, specifically the fresh corpse of a young Native American woman unearthed at an archaelogical dig, corroborated eyewitness accounts of a nightmarish figure appearing and disappearing abruptly in the darkness of the Colorado night...and the discovery of the qrisly remains of an old Navajo who seems to have spontaneously combusted.
Charlie's aunt, Daisy Perika -- an aging, cantankerous Ute shaman prone to frightening visions of death and catastrophe -- has warned her nephew away from this haunted place. No good can come, she tells him, from violating cursed ruins where Anasazi priests have consigned the lives of innocents to sacrificial flames.
But Charlie Moon's insatiable appetite for heavy, greasy food and good living is surpassed only by his love for justice and the truth. Though the truth Aunt Daisy's words have rung loud internal alarm bells, the dedicated onetime lawman is unwilling to abandon his murder investigation. Somewhere, he believes, in this bizarre tangle of ancient and modern-day evils are answers grounded more in contemporary greed and cold-blooded malice than in thousand-year-old superstitions. Digging too deep, however, could prove fatal, as death cuts an ever-widening swath through the local Native American community, And without the protection of the badge he relinquished, Charlie soon find himself the guest of honor on his funeral pyre.
Praise For White Shell Woman: A Charlie Moon Mystery…
"Doss does for the Utes what Tony Hillerman has done for the Navajo."
— Denver Post

"Doss mixes mysticism and murder with his own unmistakable touch."
— Orlando Sentinel

"Readers will find themselves propelled by fast-paced action and intriguing characters."
— Chicago Tribune

"Suspenseful and satisfying."
— Dallas Morning News

"'Doss shows his mastery in the wry dialogue and in Aunt Daisy, the most irascible shaman in the Southwest."
— Kirkus Reveiws
William Morrow, 9780060199326, 304pp.
Publication Date: January 8, 2002
About the Author
James D. Doss, recently retired from the technical staff of Los Alamos National Laboratory, now spends most of his time in a small cabin above Taos -- writing mystery fiction. He also travels to the fascinating locations where his stories take place, often camping in remote areas to absorb the impression of an Anasazi ruin, a deep canyon, an arid mesa, or a Sun Dance. His Shaman series includes The Shaman Sings, The Shaman Laughs, The Shaman's Bones, The Shaman's Game, The Night Visitor, and Grandmother Spider. The unusual plots are a mix of high technology and mysticism (Shaman Sings), bizarre animal mutilations (Shaman Laughs), theft of a sacred artifact (Shaman's Bones), an unprecedented form of murder and revenge at the Sun Dance (Shaman's Game), a most peculiar haunting followed by the discovery of an astonishing fossil (Night Visitor), and -- because a small girl has killed a spider without performing the prescribed ritual -- the appearance of a monstrous, murderous, eight-legged creature on the reservation (Grandmother Spider, of course!).
or
Not Currently Available for Direct Purchase