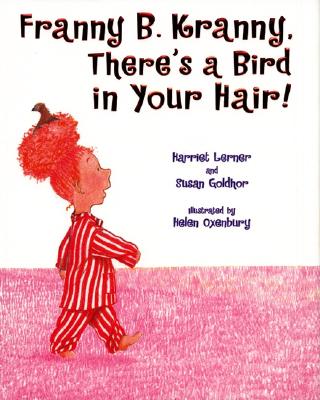 Franny B. Kranny, There's a Bird in Your Hair! (Hardcover)
HarperCollins, 9780060246839, 40pp.
Publication Date: April 24, 2001
* Individual store prices may vary.
Description
Franny B. Kranny's long, frizzy hair is big trouble. It ties itself in knots on the buttons of her dress and gets stuck in the refrigerator door! But Franny B. Kranny loves her hair. She refuses to cut it and is furious when she has to get a fancy new hairdo for a family reunion. Then a bird decides to make Franny B. Kranny's hair its home, and suddenly Franny B. Kranny starts to like her new hairdo....
Best-selling author and psychologist Harriet Lerner and her big sister, biologist Susan Goldhor, co-authored the children's book What's So Terrible About Swallowing an Apple Seed?. They team up again here with this hilarious and heartfelt story about daring to be different. World-renowned British illustrator Helen Oxenbury brings Franny B. Kranny, her wild hair, and her unique family delightfully to life.
Children's Choice Award winner for 2002.
About the Author
Harriet Lerner, Ph.D., is one of our nation's most loved and respected relationship experts. Renowned for her work on the psychology of women and family relationships, she served as a staff psychologist at the Menninger Clinic for more than two decades. A distinguished lecturer, workshop leader, and psychotherapist, she is the author of The Dance of Anger and other bestselling books. She is also, with her sister, an award-winning children's book writer. She and her husband are therapists in Lawrence, Kansas, and have two sons.
Helen Oxenbury is one of the world's most popular and acclaimed children's book illustrators. She has won England's Kate Greenaway Medal as well as many other awards. Her three series of board books--Heads, Bodies, and Legs; First Picture Books; and Pippo--have sold several million copies and are regarded as classics that revolutionized the board-book genre. Her recent books include It's My Birthday, So Much, and Alice's Adventures in Wonderland.
Susan Goldhor is a biologist who has traced mouse movements around a small island, collected sheep-guarding dogs from mountain villages in Turkey, and recycled organic wastes into a variety of products. Her latest project is exploring what fish like to eat. She lives in Cambridge, Massachusetts, and Tamworth, New Hampshire, with her husband, who is a physicist.
or
Not Currently Available for Direct Purchase