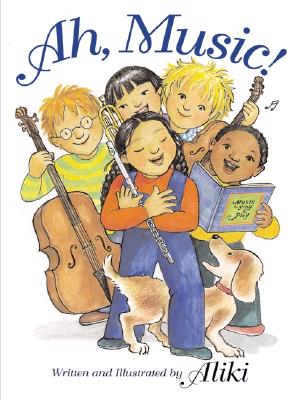 Ah, Music! (Hardcover)
HarperCollins Publishers, 9780060287191, 48pp.
Publication Date: April 1, 2003
Description
In this richly layered compendium, Aliki, the beloved creator of many award-winning books for children, shares her keen insight about music and all its themes and variations. Ah, Music is about composers and instruments. It's about artists and performers. It's about history--from the earliest music through classical, modern, jazz, and popular times. It's about diversity and pleasure.
Do you love music? Playing it and listening to it? Are you getting ready for your first recital? Then this book is for you "Everything you'd ever want to know about music: from how to define it, to types of instruments, the voice as an instrument, how dance and music work together, its history and diversity, music as therapy, and the importance of practice. . . .There is something here for everyone, from the youngest fans of the simplest melody, to older children looking for a starting point for research, to anyone interested in finding out more about a favorite art form. The joy of music is not lost in all the information, however--the energetic art, particularly in the chapter on dance, conveys the power of music to inspire."--Kirkus Reviews
Supports the Common Core State Standards
Advertisement