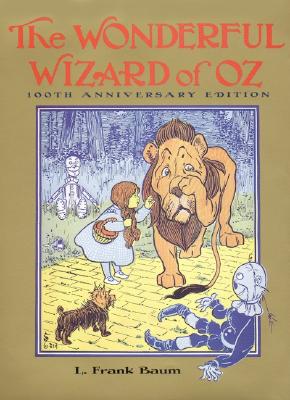 The Wonderful Wizard of Oz (Hardcover)
100th Anniversary Edition
HarperCollins, 9780060293239, 272pp.
Publication Date: October 3, 2000
Other Editions of This Title:
Paperback (5/26/2011)
Hardcover (9/12/2000)
* Individual store prices may vary.
Description
Journey to the spectacular land of Oz with The Wonderful Wizard of Oz! This classic tale from L. Frank Baum has enchanted readers for over a century. Now, in this stunning hundredth anniversary edition featuring the original illustrations by W.W. Denslow, new readers will learn the power of the phrase "There is no place like home."
In this hardcover edition with high-quality reproductions of the original art, follow the adventures of young Dorothy Gale and her dog, Toto, as their Kansas house is swept away by a cyclone and they find themselves in a strange land called Oz.
Here she meets the Munchkins and joins the Scarecrow, Tin Woodman, and the Cowardly Lion on an unforgettable journey to the Emerald City, where lives the all-powerful Wizard of Oz.
About the Author
L. Frank Baum (1856-1919) published The Wonderful Wizard of Oz in 1900 and received enormous, immediate success. Baum went on to write seventeen additional novels in the Oz series. Today, he is considered the father of the American fairy tale. His stories inspired the 1939 classic film The Wizard of Oz, one of the most widely viewed movies of all time.
Michael Sieben is a professional designer and illustrator, primarily within the sub-culture of skateboarding, whose work has been exhibited and reviewed worldwide as well as featured in numerous illustration anthologies. He is a staff writer and illustrator for Thrasher magazine, and a weekly columnist for VICE.com. He is also a founding member of Okay Mountain Gallery and Collective in Austin, Texas, as well as the cofounder of Roger Skateboards. The author of There's Nothing Wrong with You (Hopefully), he lives and works in Austin.
W[illiam] W[allace] Denslow was born in Philadephia in 1856. Famous for his bold, colorful illustrations for many popular turn-of-the-century children's books, he is best remembered today as the original illustrator of
The Wonderful Wizard of Oz
.