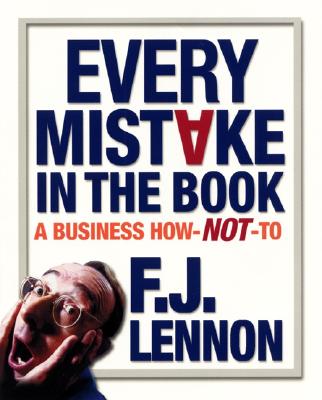 Every Mistake in the Book
A Business How-NOT-To
Hardcover

* Individual store prices may vary.
Description
Why suffer from your own business mistakes? Here's a lifesaving guide from a man who's made them all.
The world of business is like the world's worst minefield: one wrong step in any direction and you're history. It's a lesson F. J. Lennon has learned over and over again, as his entrepreneurial career careened from snafu to snafu. But Lennon was different: from the beginning he kept a journal of the screwups, big and small, he watched himself and others make. And by monitoring his own learning curve he helped turn himself -- finally -- into a successful businessman.
Every Mistake in the Book collects all the best lessons Lennon learned from his mistakes, pulling them together in a pithy, witty, and universally useful format. Whether you're a business owner, a manager, or a freshly minted graduate, Lennon's no-nonsense advice will enlighten you:
Biz Basics: If you're contemplating a startup, here are essential lessons you won't learn in a classroom or read in a textbook.
Money Matters: From venture capital to corporate debt, know the financial fundamentals or pay the price.
How to Manage Managing: All managers are card-carrying members of the baby-sitters club. Learn what you should -- and definitely shouldn't -- do to the poor saps who call you boss.
In the Trenches: Not everyone plays nice and you can't, either. Down-and-dirty advice for when the going gets tough.
Let's Get Personal: Yes, it does matter how you act, speak, write, and dress. Here's how to get that little bit of polish -- or at least not alienate everyone around you.
Often hysterical, always practical, this straight-from-the-hip handbook will educate and encourage everyone from the dot-com greenhorn to the established business professional.
Praise For Every Mistake in the Book: A Business How-NOT-To…
"The freshest business book I've seen this year."
— Dallas Morning News
Harper Business, 9780060393939, 208pp.
Publication Date: June 26, 2001
About the Author
F.J. Lennon has been in the interactive entertainment industry since 1985. He is now an interactive producer, designer, and writer based in Los Angeles.
or
Not Currently Available for Direct Purchase