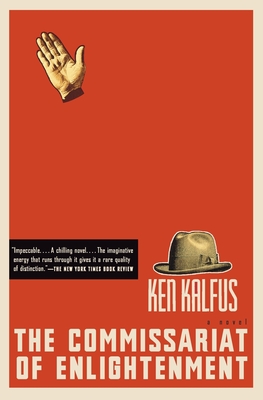 The Commissariat of Enlightenment (Paperback)
Harper Perennial, 9780060501396, 304pp.
Publication Date: February 3, 2004
Description
Russia, 1910. Leo Tolstoy lies dying in Astapovo, a remote railway station. Members of the press from around the world have descended upon this sleepy hamlet to record his passing for a public suddenly ravenous for celebrity news. They have been joined by a film company whose cinematographer, Nikolai Gribshin, is capturing the extraordinary scene and learning how to wield his camera as a political tool. At this historic moment he comes across two men -- the scientist, Professor Vorobev, and the revolutionist, Joseph Stalin -- who have radical, mysterious plans for the future. Soon they will accompany him on a long, cold march through an era of brutality and absurdity. The Commissariat of Enlightenment is a mesmerizing novel of ideas that brilliantly links the tragedy and comedy of the Russian Revolution with the global empire of images that occupies our imaginations today.
Praise For The Commissariat of Enlightenment…
"Inventive, unusual, humorous, ... deeply intelligent, The Commissariat of Enlightenment beautifully illuminates the hazardous powers of image, icon, and relic."
-Andrea Barrett

"Brilliant ... Inventive ... Gogol is probably tearing his hair out, wishing he'd dreamed this up."
-Kirkus Reviews (starred review)

"Kalfus is an ironist in the best late-modern Central European style: wry, humane, precise, and beautifully smitten with ideas."
-Jonathan Franzen

"Unforgettable...the story exhibits all the vigorous intelligence and vision readers have come to expect from Kalfus."
-Publishers Weekly (starred review)

"Glitteringly original. . . . An intricate, harrowing, and, yes, dangerous first novel that sets out to capture the dawn of the 20th century in Bolshevik Russia."
-Esquire

"Kalfus's book is absorbing, intelligent, witty and wry...A fable that tells the story of the 20th century."
-London Times
Advertisement