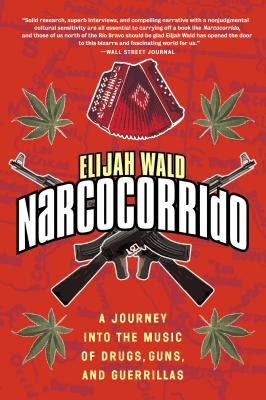 Narcocorrido
A Journey into the Music of Drugs, Guns, and Guerrillas
Paperback

* Individual store prices may vary.
Description
This book explores the world in which one of the oddest and most interesting trends in Latin music over the last 30 years has risen, the narcocorrido. Narcocorridos are Mexican ballads about the daring deeds of cross-border drug traffickers. Tracing the narcocorrido from its birth during the Mexican Revolution, up through its recent developments on the Mexican West Coast, the cradle of drug traffic. From there, the story moves to Los Angeles, where drug music began to blend with the corridos of Mexican immigrants and the concerns they have with living in the United States. The books narrative then heads across the Southwest to the Texas border region, where drug songs are still competing with more old-fashioned gunfighter ballads, then down through Mexico to the southern states of Michoacan, the latest big drug area. Finally, we are taken to Mexico City, with a traveling balladeer of the Zapatista revolution, and a meeting with Teodoro Bello, an illiterate genius who has not only become the most popular present-day corrido writer but the best-selling composer in Mexican history. Through this journey, we feel what how important the music is to the people who make and listen to it, while understanding the deep historical significance this music has on culture, both in Mexico and the United States.
Praise For Narcocorrido: A Journey into the Music of Drugs, Guns, and Guerrillas…
"Wald is an engaging writer, and Narcocorrido a must-have for those wanting an introduction to the genre." — Austin Chronicle
"a unique book about a unique subject...a fascinating reading." — Dave Ferman, Fort Worth Star-Telegram
Rayo, 9780060505103, 368pp.
Publication Date: October 22, 2002
About the Author
Elijah Waldis a writer and musician whose books include Escaping the Delta: Robert Johnson and the Invention of the Blues and How the Beatles Destroyed Rock 'n' Roll: An Alternative History of American Popular Music. A respected expert on the folk revival, he collaborated with Dave Van Ronk on The Mayor of MacDougal Street, the inspiration for the Coen Brothers' film Inside Llewyn Davis. His awards include a 2002 Grammy, and he has taught blues history at UCLA and lectured widely on American, Mexican, and world music. He currently lives in Medford, Massachusetts.
or
Not Currently Available for Direct Purchase