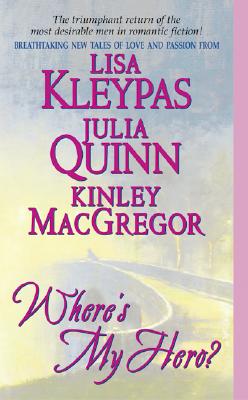 Where's My Hero? (A Bow Street Novella #1) (Mass Market)
Avon, 9780060505240, 384pp.
Publication Date: August 26, 2003
* Individual store prices may vary.
Description
Dear Avon Books,
Where are my heroes? Whenever I'm reading a book by one of my favorite authors I find I'm falling for the wrong guy -- not the hero, but the other man -- and what I really want is for him to have his own story.
Like Jake Linley, from Someone to Watch Over Me by Lisa Kleypas…that doctor could sit by my bedside if I ever got sick. And Ned Blydon in Splendid by Julia Quinn...he makes me want to learn to waltz! I never thought living in a drafty castle would be much fun until Simon of Ravenswood in Master of Desire by Kinley MacGregor came along.
Anyway, I just wanted to let you know that these are my men -- when do they get their stories?
Sincerely,
A Romance Fan
Some books are so special that there is more than one hero to love, but only a single story is told. So if you find yourself asking, "Where is my hero?" you'll discover the answer right here in this delicious collection by New York Times bestseller Lisa Kleypas, New York Times bestseller Julia Quinn and USA Today bestseller Kinley MacGregor.
About the Author
New York Times bestselling author Lisa Kleypas graduated from Wellesley College with a political science degree. She's a RITA award-winning author of both historical romance and contemporary women's fiction. She lives in Washington State with her husband Gregory and their two children.
New York Times bestselling author Kinley MacGregor lives a life of extraordinary danger...as does any woman with three sons, a husband, a menagerie of pets, and a collection of swords that all of the above have a major fixation with. But when not running interference (or dashing off to the emergency room), she can be found chained to her computer where she likes to play with all her imaginary friends. With more than ten million copies of her books in print, in 26 countries, she certainly has a lot of friends to play with, too.
Writing as Kinley MacGregor and Sherrilyn Kenyon, she is the author of several series including: The Dark-Hunters, Brotherhood of the Sword, Lords of Avalon, and BAD. With an international, cult following, her books have appeared in the top three on the New York Times, Publishers Weekly, and USA Today bestseller lists.
Julia Quinn started writing her first book one month after finishing college and has been tapping away at her keyboard ever since. The #1 New York Times bestselling author of more than two dozen novels for Avon Books, she is a graduate of Harvard and Radcliffe Colleges and is one of only sixteen authors ever to be inducted in the Romance Writers of America Hall of Fame. She lives in the Pacific Northwest with her family. Please visit her on the web at www.juliaquinn.com.