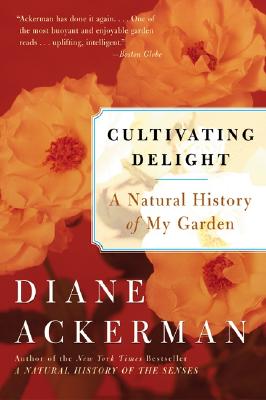 Cultivating Delight
A Natural History of My Garden
Paperback

* Individual store prices may vary.
Other Editions of This Title:
Hardcover (10/1/2001)
Description
"Ackerman has done it again … one of the most buoyant and enjoyable garden reads … uplifting, intelligent." — Boston Globe
In the mode of her bestseller A Natural History of the Senses, Diane Ackerman celebrates the sensory pleasures of her garden through the seasons.
Whether she is deadheading flowers or glorying in the profusion of roses, offering sugar water to a hummingbird or studying the slug, she welcomes the unexpected drama and extravagance as well as the sanctuary her garden offers.
Written in sensuous, lyrical prose, Cultivating Delight is a hymn to nature and to the pleasure we take in it.
Praise For Cultivating Delight: A Natural History of My Garden…
"Diane Ackerman takes us down the garden path with a renewed sense of awe …[and] enlightened eyes." — Los Angeles Times
"Ackerman's rich prose is a bridge to a world of discovery." — Nature
"An enchanting intellectual sensualist … Ackerman buzzes productively from idea to revelation to insight … [with] breezy philosophical lyricism." — Publishers Weekly (* Starred Review *)
"Lyrical, knowledgeable and imaginative." — Booklist
"A fascinating tour of plant mythology and fact …[Ackerman] plays both sleuth and poet." — People
Harper Perennial, 9780060505363, 272pp.
Publication Date: October 1, 2002
About the Author
Poet, essayist, and naturalist, Diane Ackerman is the author of many highly acclaimed works of nonfiction, including A Natural History of the Senses -- a book beloved by readers all over the worldand the volumes Deep Play, A Slender Thread, The Rarest of the Rare, A Natural History of Love, The Moon by Whale Light, and a memoir on flying, On Extended Wings.
Her poetry has been collected into six volumes, among them Jaguar of Sweet Laughter: New and Selected Poems and, most recently, Praise My Destroyer.
Ms. Ackerman has received many prizes and awards, including the John Burroughs Nature Award and the Lavan Poetry Prize. A Visiting Professor at the Society for the Humanities at Cornell University, she was the National Endowment for the Humanities Distinguished Professor at the University of Richmond. Ms. Ackerman also has the unusual distinction of having had a molecule named after her -- dianeackerone. She lives in upstate New York.