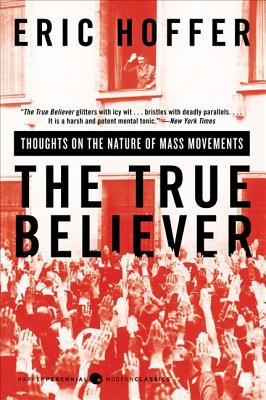 The True Believer (Paperback)
Thoughts on the Nature of Mass Movements
Harper Perennial Modern Classics, 9780060505912, 192pp.
Publication Date: January 19, 2010
Other Editions of This Title:
Paperback (8/6/2019)
* Individual store prices may vary.
Description
"[Eric Hoffer] is a student of extraordinary perception and insight. The range of his reading and research is vast, amazing. [The True Believer is] one of the most provocative books of our immediate day."—Christian Science Monitor
The famous bestseller with "concise insight into what drives the mind of the fanatic and the dynamics of a mass movement" (Wall St. Journal) by Presidential Medal of Freedom recipient Eric Hoffer, The True Believer is a landmark in the field of social psychology, and even more relevant today than ever before in history. Called a "brilliant and original inquiry" and "a genuine contribution to our social thought" by Arthur Schlesinger, Jr., The True Believer is mandatory reading for anyone interested in the machinations by which an individual becomes a fanatic.
About the Author
Eric Hoffer (1902 -- 1983) was self-educated. He worked in restaurants, as a migrant fieldworker, and as a gold prospector. After Pearl Harbor, he worked as a longshoreman in San Francisco for twenty-five years. The author of more than ten books, including The Passionate State of Mind, The Ordeal of Change, and The Temper of Our Time, Eric Hoffer was awarded the Presidential Medal of Freedom in 1983.