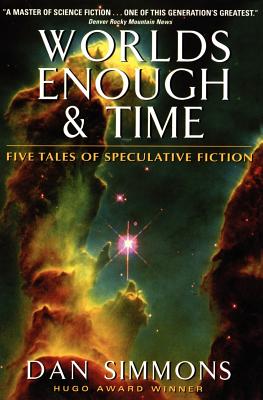 Worlds Enough & Time
Five Tales of Speculative Fiction
Paperback

* Individual store prices may vary.
Description
An extraordinary artist with few rivals in his chosen arena, Dan Simmons possesses a restless talent that continually presses boundaries while tantalizing the mind and touching the soul. Now he offers us a superb quintet of novellas -- five dazzling masterworks of speculative fiction, including "Orphans of the Helix," his award-winning return to the Hyperion Universe -- that demonstrates the unique mastery, breathtaking invention, and flawless craftsmanship of one of contemporary fiction's true greats.
Human colonists seeking something other than godhood encounter their long-lost "cousins"...and an ancient scourge.

A devastated man in suicide's embrace is caught up in a bizarre cat-and-mouse game with a young woman possessing a world-ending power.

The distant descendants of a once-oppressed people learn a chilling lesson about the persistence of the past.

A terrifying ascent up the frigid, snow-swept slopes of K2 shatters preconceptions and reveals the true natures of four climbers, one of whom is not human.

At the intersection of a grand past and a threadbare present, an aging American in Russia confronts his own mortality as he glimpses a wondrous future.
Harper Voyager, 9780060506049, 272pp.
Publication Date: November 26, 2002
About the Author
Dan Simmons is the Hugo Award-winning author of Hyperion and The Fall of Hyperion, and their sequels, Endymion and The Rise of Endymion. He has written the critically acclaimed suspense novels Darwin's Blade and The Crook Factory, as well as other highly respected works, including Summer of Night and its sequel A Winter Haunting, Song of Kali, Carrion Comfort, and Worlds Enough & Time. Simmons makes his home in Colorado.