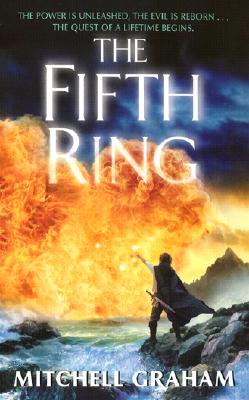 The Fifth Ring
Mass Market

* Individual store prices may vary.
Description
Intricately plotted, with compelling characters, The Fifth Ring by Mitchell Graham is the first volume in an epic fantasy trilogy that tells of a young man's survival against insurmountable odds.
Despite a massive defeat decades ago, Karas Duren, Lord of Alor Sator, is again attempting to conquer the neighbouring kingdoms and bring them under one rule – his own. Now the evil ruler holds a weapon of mass destruction: a single ring left over from the Ancients that will allow him to control people and destroy everything and anyone who chooses to oppose him – including his own brother.
In a small village, a young boy wins a ring in a fencing tournament. Born and raised on a small farm, Mathew has little contact with the outside world, until the day his father is murdered in front of his eyes. Mat kills the murderer in revenge and must run for his life. Joining him is a mysterious priest, a few friends, and his love, Lara. During his flight Mathew discovers unusual powers in the ring, powers that make him one of the most potent men on the planet – and bring him to Duren's attention...A story of courage, love, and valour, this is epic fantasy at its best.
Harper Voyager, 9780060506513, 528pp.
Publication Date: January 28, 2003
About the Author
Mitchell Graham was born in New York City and is an attorney in the State of Florida. A former member of the U.S. National Fencing Squad, he represented the U.S. in a number of competitions around the world and won more than thirty-five individual titles in the sport, placing in the top five more than one hundred times over the course of his career. In addition, he holds a doctorate in neuropsychology from the University of Miami. Mr. Graham lives in Miami with his fiancée and is currently at work on his second fantasy novel.
or
Not Currently Available for Direct Purchase