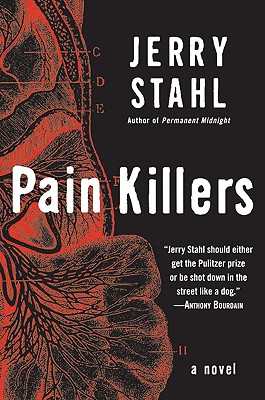 Pain Killers (Hardcover)
William Morrow, 9780060506650, 416pp.
Publication Date: March 1, 2009
* Individual store prices may vary.
or
Not Currently Available for Direct Purchase
Description
From the acclaimed and controversial author of Permanent Midnight comes one of the most vividly subversive, savagely funny, and explosive novels yet unleashed in our tender century. Pain Killers is a violent and mind-wrenching masterpiece in the gonzo noir style that has earned Jerry Stahl his legion of avid fans.
Down-and-out ex-cop and not-quite-reformed addict Manny Rupert accepts a job going undercover to find out if an old man locked up in a California prison is who he claims to be: the despicable—and allegedly dead—Josef Mengele, aka the Angel of Death. What if, instead of drowning thirty years ago, the sadistic legend whose Auschwitz crimes still horrify faked his own death and is now locked up in San Quentin, ranting and bitter about being denied the adulation he craves for his contribution to keeping the Master Race pure—if no longer masterful?
After accidentally reuniting with ex-wife and love of his life, Tina, at San Quentin—they first met at the crime scene where Tina murdered her first husband with Drano-laced Lucky Charms—Manny spends a bad night imbibing boxed wine and questionable World War One morphine, hunched over a trove of photos showing live genital dissections that plant him in the middle of a conspiracy involving genocide, drugs, eugenics, human experiments, and America's secret history of collusion with German believers in Nordic superiority.
Manny's quest sends him careening from one extreme of apocalypse-adjacent reality to the other: from SS-inked Jewish shotcallers to meth-crazed virgin hookers, from Mexican gangbangers to Big Pharma–financed prison research to an animal shelter that gasses more than stray dogs and cats . . .
Pain Killers captures one man's struggle against a perverse and demented scheme of global proportions, in a literary tour de force as outrageous, compelling, and dangerous as history itself. Not for the faint of heart, the novel hurtles readers into a disturbing, original, and alarmingly real world filled with some of the kinkiest sex, most horrific violence, and screaming wit ever found on the page—proving yet again that Stahl is, as The New Yorker described him, "a better-than-Burroughs virtuoso."
Praise For Pain Killers…
Dig it: Perv--A Love Story is a beautifully wrought and twisted ode to freaks, beatniks, hopheads, and the wild-assed and strange everywhere. Jerry Stahl is the American hipster bard.
-James Ellroy, author of L.A. Confidential and My Dark Places

"From the opening gut punch this book had me laughing and turning pages. Jerry Stahl is Thomas Berger's wicked stepson and his new novel is a tour de force."
-Tom Franklin, author of Smonk, Hell at the Breech, and Poachers
Advertisement