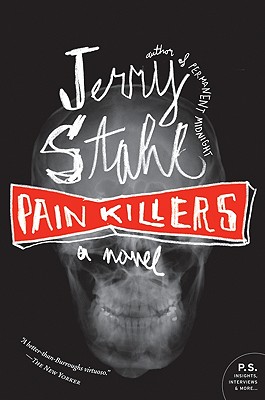 Pain Killers (Paperback)
Harper Perennial, 9780060506667, 408pp.
Publication Date: March 16, 2010
Description
Down-and-out ex-cop and not-quite-reformed addict Manny Rupert accepts an undercover job to find out if a California prison inmate is who he claims to be: Josef Mengele, aka the Angel of Death. Did the sadistic legend, whose Auschwitz crimes still horrify, fake his own death thirty years ago? Suddenly Manny finds himself in the middle of a conspiracy involving genocide, drugs, eugenics, human experiments, and America's secret history of collusion with the Nazis--all while careening from one extreme of apocalypse-adjacent reality to the other.
Not for the faint of heart, Jerry Stahl's Pain Killers hurtles readers into a disturbing, original, and alarmingly real world filled with some of the strangest sex, most horrific violence, and screaming wit ever found on the page.
Praise For Pain Killers…
Dig it: Perv--A Love Story is a beautifully wrought and twisted ode to freaks, beatniks, hopheads, and the wild-assed and strange everywhere. Jerry Stahl is the American hipster bard.
-James Ellroy, author of L.A. Confidential and My Dark Places

"From the opening gut punch this book had me laughing and turning pages. Jerry Stahl is Thomas Berger's wicked stepson and his new novel is a tour de force."
-Tom Franklin, author of Smonk, Hell at the Breech, and Poachers
Advertisement