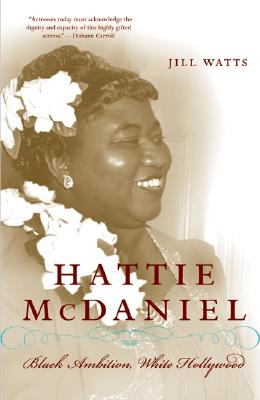 Hattie McDaniel (Hardcover)
Black Ambition, White Hollywood
Amistad, 9780060514907, 368pp.
Publication Date: September 27, 2005
* Individual store prices may vary.
Description
Hattie McDaniel is perhaps bestknown for her performance as Mammy, the sassyfoil to Scarlett O'Hara in Gone With the Wind, one of Hollywood's most revered -- and controversial -- films. McDaniel's Oscar win raised hopes that theentertainment industry was finally ready to createmore respectful, multidimensional roles for blacks.But under the aegis of studio heads eager to pleaseSoutherners, screenwriters kept churning out rolesthat denigrated the African-American experience.
Where McDaniel's stature and popularity shouldhave increased after Selznick's masterpiece cameout, as was the case for her white counterparts, hersdeclined, as an increasingly politicized black audienceturned against her. "I'd rather play a maid than be amaid," is how McDaniel answered her critics. Yet herflippant response belied a woman whose hardscrabblebackground rendered her emotionally conflictedabout the roles she accepted. Here, at last, in a finelytuned biography by Jill Watts, is her story.
Watts, a highly praised researcher and writer,shares little-known aspects of McDaniel's life, fromher dealings with Hollywood's power brokers andblack political organizations to her successful civilrights battle to integrate a Los Angeles neighborhood,revealing a woman hailed by Ebony as anachiever of "more firsts in Hollywood" than anyother black entertainer of her time.
About the Author
A professor of history at California State University and the coordinator of the film studies program at California State University, San Marcos, Jill Watts has written two previous books, God, Harlem U.S.A.: The Father Divine Story and Mae West: An Icon in Black and White. She lives in San Marcos, California.
Praise For Hattie McDaniel: Black Ambition, White Hollywood…
"A provocative biography."
— Edward Rothstein, The New York Times on Mae West: An Icon in Black and White

"Fascinating. . .A compelling, disturbing history of blacks in early Hollwyood."
— Publishers Weekly
or
Not Currently Available for Direct Purchase