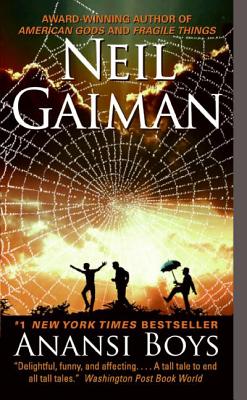 Anansi Boys (Mass Market Paperbound)
HarperTorch, 9780060515195, 400pp.
Publication Date: September 26, 2006
* Individual store prices may vary.
Description
Fat Charlie Nancy's normal life ended the moment his father dropped dead on a Florida karaoke stage. Charlie didn't know his dad was a god. And he never knew he had a brother.
Now brother Spider's on his doorstep—about to make Fat Charlie's life more interesting . . . and a lot more dangerous.
Praise For Anansi Boys…
"Deliciously compulsive . . . Grade: A."
-Washington Post

"Ebullient . . . The Gaiman faithful will devour it gratefully."
-Sacramento Bee

"Somehow manages to be both really scary and really funny at the same time."
-Newsweek

"Witty and engaging."
-Minneapolis Star Tribune

"The most accomplished of Gaiman's novels . . . Urbane and sophisticated."
-Time Out London

"A clever, quick-witted book."
-Oklahoma City Oklahoman

"A remarkably funny book."
-Toronto Star

"A madcap, screwball world that is partly absurd, occassionally humane and always entertaining."
-Pittsburgh Tribune

"Genre-busting . . . very creative and very funny. Grade: A-"
-Christian Science Monitor

"An off-kilter blend of reality and fantasy."
-Atlanta Journal-Constitution

"A droll comedy of manners with elements of mystery, thriller and romance thrown in . . . Charming."
-Vancouver Sun

"Gaiman hardwires his comedy of misrule with a crackpot energy that, when successfully channelled, lights up the imagination."
-Sunday Times (London)

"A thoughtful, atmospheric novel."
-London Times

"Ebullient . . . ingenious . . . enormously entertaining throughout."
-Kirkus Reviews (starred review)

"Another lovely story as only Gaiman can tell it; necessary and recommended."
-Library Journal

"[Gaiman is] the folksy, witty, foolishly wise narrator to perfection."
-Booklist (starred review)

"Funny and subversive . . . Gaiman's mastery of language carries the reader through to a satisfying conclusion."
-USA Today

"Delightful, funny and affecting . . . the literary equivalent of a hole in one."
-Washington Post Book World

"Readers who enjoyed American Gods . . . will fall madly in love with ANANSI BOYS."
-St. Louis Post-Dispatch

"A welterweight boxer of a book -- light on its feet, but capable of delivering a punch."
-Atlanta Journal-Constitution

"ANANSI BOYS makes an incredible read."
-Times Leader

"[Gaiman] gives his flair for comedy free rein without losing his appreciation for the darker aspects of world mythology."
-San Francisco Chronicle

"A very accomplished comic novel."
-Daily Telegraph (London)

"A hybrid of folk tale and farce that freely partakes of the comic wealth in each."
-Salon.com

"Another great work from Neil Gaiman."
-Toronto Star

"Gaiman at his best."
-Rocky Mountain News

"Darkly funny and heartwarming to the end, this book is an addictive read not easily forgotten."
-School Library Journal
or
Not Currently Available for Direct Purchase