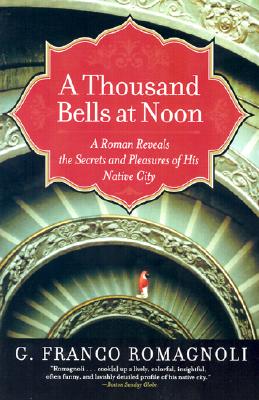 A Thousand Bells at Noon
A Roman Reveals the Secrets and Pleasures of His Native City
Paperback

* Individual store prices may vary.
Description
G. Franco Romagnoli was a mere youth when he left Rome for America, where he made a name for himself as a cookbook author, television personality, and restaurateur. But the love of his native city brought him back to Rome for an extended stay, allowing him to rediscover the sights, smells, and sounds of this urban paradise.
In A Thousand Bells at Noon, Romagnoli shares with readers his visceral and emotional experiences in Rome: its ancient streets and modern shops; it parks; cafés, and hidden gardens; its grand public squares and sacred spaces. As he relives moments from his childhood, reconnects with old friends, and sees through new eyes a modern city steeped in history, you will fall in love with Romagnoli's Rome -- a wondrous place like no other on earth.
Harper Perennial, 9780060519209, 272pp.
Publication Date: April 1, 2003
About the Author
G. Franco Romagnoli, an accomplished chef and restaurateur, was born, raised, and educated in Rome, and moved to the United States in 1955. From 1974 to 1976, he and his late wife, Margaret, wrote and starred in The Romagnolis' Table, a television series on Italian cooking. Their cookbook of the same name and its sequel, The New Romagnolis' Table, have sold nearly 400,000 copies, and for ten years they owned three four-star restaurants in the Boston area. Romagnoli is the author of numerous cookbooks, a frequent contributor of articles on food and travel to newspapers and magazines, and a culinary arts professor at Boston University. Widowed in 1995, he remarried in 1998, and now lives in Boston with his wife, Gwen, a lawyer and writer.