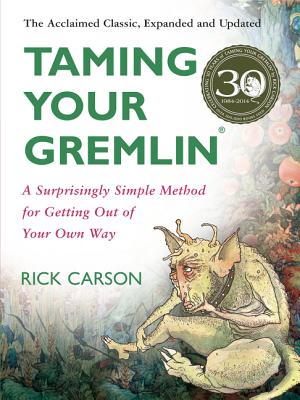 Taming Your Gremlin (Revised Edition) (Paperback)
A Surprisingly Simple Method for Getting Out of Your Own Way
William Morrow Paperbacks, 9780060520229, 192pp.
Publication Date: July 8, 2003
Other Editions of This Title:
Digital Audiobook (1/21/2013)
* Individual store prices may vary.
Description
This is a completely updated edition of the 1983 classic that introduced a powerful method for gaining freedom from self-defeating behaviors and beliefs. Rick Carson, creator of the renowned Gremlin-Taming™ Method, has revised the book to include fresh interactive activities, real-life vignettes we can all identify with, and new loathsome gremlins ripe for taming. Carson blends his laid-back style, Taoist wisdom, the Zen Theory of Change, and sound psychology in an easy-to-understand, unique, and practical system for banishing the nemesis within. Among the things you will learn are:
Techniques for getting a sliver of light between the natural you and the monster of your mind.
The extraordinary power of simply noticing and playing with options.
Six keys to maintaining emotional balance amid upheaval.
About the Author
This is Rick Carson's fourth book for HarperCollins. His seminal work, Taming Your Gremlin®, has had a remarkable track record. Translated into several languages, Taming Your Gremlin has been a consistent seller since 1984. For thousands in a cross-section of cultures and circumstances, the Gremlin-Taming Method serves as a foundation for responding to everyday challenges and for living a satisfying life.
For over thirty-five years Rick has been a counselor, personal and executive coach, and trainer for mental health professionals, businesses, and nonprofit organizations. His work is used in the training of psychotherapists, personal and executive coaches, substance abuse specialists, corrections personnel, teachers, corporate executives, clergy, and others. He is a former faculty member at the University of Texas Southwestern Medical School and a clinical member and approved supervisor for the American Association for Marriage and Family Therapy.
Rick is the founder of the Gremlin Taming Institute in Dallas, Texas.
Praise For Taming Your Gremlin (Revised Edition): A Surprisingly Simple Method for Getting Out of Your Own Way…
"Rick Carson is a genius at exploring our inner conflicts in novel ways. ...And there's a bonus: it works."
— Larry Dossey, M.D., author of Reinventing Medicine and Healing Words

"I loved Taming Your Gremlin(R). . . .this book led me to a very profound awareness."
— Virginia M. Satir, author of Peoplemaking, about the first edition

"I have found 'Gremlin-Taming' to be a unique, imaginative, and effective tool. . .I highly recommend it!"
— Joan Baez