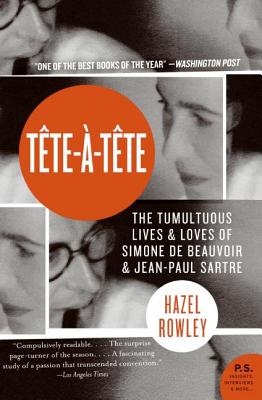 Tete-a-Tete (Paperback)
The Tumultuous Lives and Loves of Simone de Beauvoir and Jean-Paul Sartre
Harper Perennial, 9780060520601, 464pp.
Publication Date: October 17, 2006
Other Editions of This Title:
Hardcover (10/4/2005)
* Individual store prices may vary.
Description
"Enthralling . . . Here we find an ugly, walleyed existentialist philosopher, the elegantly beautiful author of The Second Sex and the Gallic equivalent of a bevy of young starlets who share the bed of one or the other--or sometimes both. Readers will turn these pages alternately mesmerized and appalled." — Michael Dirda, Washington Post Book World
Passionate, freethinking existentialist philosopher-writers Simone de Beauvoir and Jean-Paul Sartre are one of the world's legendary couples. Their committed but notoriously open union generated no end of controversy in their day. Biographer Hazel Rowley offers the first dual portrait of these two colossal figures and their intense, often embattled relationship. Through original interviews and access to new primary sources, Rowley portrays Sartre and Beauvoir up close.
Tête-à-Tête magnificently details the passion, daring, humor, and contradictions of a remarkably unorthodox relationship.
About the Author
Hazel Rowley is the author of two previous books: Christina Stead: A Biography and Richard Wright: The Life And Times. She has been a Rockefeller Foundation Fellow and a Bunting Institute Fellow at Radcliffe College, and has taught at the University of Iowa and at Deakin University in Melbourne, Australia. She lives in New York and Paris.
Praise For Tete-a-Tete: The Tumultuous Lives and Loves of Simone de Beauvoir and Jean-Paul Sartre…
"Compulsively readable . . . The surprise page-turner of the season . . . An admiring but balanced portrait emerges of activist intellectuals determined to practice the freedom they preached . . . [A] fascinating study of a passion that transcended convention."
— Los Angeles Times Book Review

"Rowley is an engrossing narrator. Her book tells Beauvoir and Sartre's repellent, inspiring and unlikely tale more completely and concisely than it has ever been told before."
— New York Times Book Review

"A fast-moving yet vast saga, spanning the bulk of the 20th century and much of the world . . . Rowley aims to capture Beauvoir and Sartre's life experiences. She does this vividly and expertly."
— Seattle Times

"Tête-a-Tête has just about everything: sex, philosophy, politics and the world's most unconventional love story. Hard as I tried, I could not put it down."
— Barbara Ehrenreich

"Enormously rich and utterly absorbing, TETE-A-TETE offers just what is needed: a short, concise, penetrating look into the famous couple who changed their century."
— Brenda Maddox

"The surprise page-turner of the year. With the deftness of a geometer, Rowley sorts out their many 'contingent' love affairs, keeping all the eyebrow-raising, overlapping triangles straight."
— Newsday

"Tête-à-Tête captures the uniqueness of [Beauvoir and Sartre's] fascinating relationship, as well as their orbital ones, with an ethic of transparency which would not have displeased either of it protagonists."
— Times Literary Supplement (London)

"A lively and fulfilling portrait . . . This wonderfully crafted narrative presents the complicated lives of these two strong-willed individuals and their numerous lovers, companions, friends, concerns, and passions in a way that enthralls like a novel but clearly imparts the force of reality. Thoroughly researched and well-written."
— Library Journal

"What Rowley so shrewdly and fairly reveals in this explicit and insightful double portrait is that these two charismatic champions for justice and freedom were committed at any cost to transmuting existence into art."
— Booklist

"Without undue prurience, Rowley romps through the major entanglements, loves, triangles, friendships and affairs . . . and [places] these fascinating interactions into literary and biographical context . . . [She] draws from vast stores of published and unpublished writings, correspondence and interviews."
— Publishers Weekly

"Drawing on unpublished letters and new interviews with romantic casualties from both sides, Rowley artfully alternates between depicting Sartre and [Beauvoir] as cafe-lounging, leftist intellectuals, and jealous, cruel sexual manipulators straight out of Dangerous Liaisons."
— Entertainment Weekly

"Fascinating . . . A neatly assembled record of people behaving badly in the name of literature, philosophy and amour."
— Kirkus Reviews

"Exhilirating."
— Houston Chronicle

"Compulsively readable... The surprise page-turner of the season... [A] fascinating study of a passion that transcended convention."
— Los Angeles Times Book Review

"Engrossing... Tells Beauvoir and Sartre's repellent, inspiring and unlikely tale more completely and concisely than it has ever been told."
— New York Times Book Review

"TETE-A-TETE has just about everything... Hard as I tried, I could not put it down."
— Barbara Ehrenreich

"Enormously rich and utterly absorbing . . . a short, concise, penetrating look into the famous couple who changed their century."
— Brenda Maddox

"An in-depth, unflinching account . . . TETE-A-TETE provides a valuable cultural history."
— Boston Globe

"[A] sympathetic but clear-eyed history of Sartre and Beauvoir's lifelong partnership."
— New York Times

"A fast-moving yet vast saga, spanning the bulk of the 20th century and much of the world."
— Seattle Times

"An enthralling book . . . . Readers will turn these pages alternately mesmerized and appalled."
— Michael Dirda, Washington Post Book World