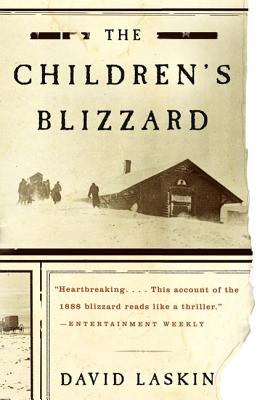 The Children's Blizzard (Paperback)
Harper Perennial, 9780060520762, 336pp.
Publication Date: October 11, 2005
Other Editions of This Title:
Hardcover (11/9/2004)
Compact Disc (5/10/2016)
MP3 CD (5/10/2016)
* Individual store prices may vary.
Description
"David Laskin deploys historical fact of the finest grain to tell the story of a monstrous blizzard that caught the settlers of the Great Plains utterly by surprise. Using the storm as a lens, Laskin captures the brutal, heartbreaking folly of this chapter in America's history, and along the way delves into the freakish physics of extreme cold. This is a book best read with a fire roaring in the hearth and a blanket and box of tissues near at hand."  — Erik Larson, author of The Devil in the White City
Thousands of impoverished Northern European immigrants were promised that the prairie offered "land, freedom, and hope." The disastrous blizzard of 1888 revealed that their free homestead was not a paradise but a hard, unforgiving place governed by natural forces they neither understood nor controlled, and America's heartland would never be the same.
This P.S. edition features an extra 16 pages of insights into the book, including author interviews, recommended reading, and more.
About the Author
David Laskin is the author of The Children's Blizzard, winner of the Midwest Booksellers' Choice Award for nonfiction and the Washington State Book Award. His writing has appeared in The New York Times, The Wall Street Journal, and Smithsonian magazine. He lives in Seattle, Washington.
Praise For The Children's Blizzard…
"Laskin captures the brutal, heartbreaking folly of this chapter in America's history."
— Erik Larson, author of Isaac's Storm and The Devil in the White City

"An adroit, sensitive drama and a skillful addition to a popular genre. . . . A perceptive presentation, evoking lives unnoticed by history but for the tragedy of this storm."
— Booklist

"A gripping chronicle of meteorological chance and human folly and error. . . . Novelistic [and] consistently affecting. . . . A rewarding read."
— Publishers Weekly

"Terrifying and often vivid. . . . Laskin skillfully weaves together a clear report and explanation of the meteorological event with harrowing accounts of slow death, loss, and, survival. This book should be read by anyone wishing to fathom the terrible cost of settling that desolate, dangerous, and beautiful land."
— The Atlantic Monthly

"Laskin pulls no punches. . . . The Children's Blizzard is a welcome contribution to the historical literature of American life and westward expansion."
— Chicago Sun-Times

"Unearthing the stories buried in a killer snow, David Laskin compellingly recounts a devastating 1888 snowstorm."
— The Seattle Times

"Heart-breaking. . . . This account of the 1888 blizzard that killed more than 100 children in the Great Plains reads like a thriller. . . . Laskin reminds us that the pioneer life wasn't so much romantic as it was deadly."
— Entertainment Weekly

"In The Children's Blizzard, Mr. Laskin has written a fascinating account of the day the wind finally did what it always promises to do on those bleak Dakota prairies. . . . Mr. Laskin has chosen his subject brilliantly, for something did change in that winter blast."
— The Wall Street Journal

"A terrifying but beautifully written book."
— The Washington Post

"Terrifying and often vivid…. Laskin skillfully weaves together a clear report and explanation of the meteorological event with harrowing accounts of slow death, loss, and, survival."
— The Atlantic Monthly

"A welcome contribution to the historical literature of American life and westward expansion."
— The Chicago Sun-Times

"Like a ride down a steep, icy hill on a toboggan, the story gathers speed. . . . Even though you know how the tragic story ends with its inevitable conclusion, it's a tale to savor."
— The Des Moines Register

"David Laskin has produced a book at once terrifying and engrossing about the epoch blizzard that left an estimated 250 to 500 dead across the frigid plains of Nebraska and the Dakota Territory."
— The Lincoln Journal Star

"David Laskin gives us the complete story in all its fascinating, often harrowing detail. . . . He has contributed a vital addition to the lore of Western immigrant pioneering."
— Washington Post

"Elegant in its research and eloquent in its recountings. . . . . This is a haunting book about the odds stacked against the settlers of the American heartland."
— Ivan Doig, author of This House of Sky

"Laskin excels at making these Plains pioneers live again, whether they survived or succumbed to the storm. . . . This book about flatlands is sharp enough that the thoughts and failings of mountain climbers become crystal-clear."
— USA Today

"A tale of horror and heroism: gripping, terrifying, and definitely worth the read. . . . What makes The Children's Blizzard amazing are the survival stories from people stranded in the sub-zero whiteout."
— Manchester Union Leader

"A heartrending tale. . . . With a flair for novelistic detail, Laskin brings many of these settlers back to life as he follows the fortunes of immigrant families. . . . Every page of the engrossing narrative explores the uncomfortable reality of human frailty when confronting insurmountable odds."
— Minneapolis Star Tribune

"Told through the awed, disbelieving eyes of storm victims. . . . The Children's Blizzard recounts a poignant, heartbreaking chapter in American history. Laskin draws on firsthand accounts of the snowstorm to produce an intimate, human-scale tale of climatic cataclysm."
— Seattle Weekly

"In The Children's Blizzard, David Laskin deploys historical fact of the finest grain to tell the story of a monstrous blizzard that caught the settlers of the Great Plains utterly by surprise. Using the storm as a lens, Laskin captures the brutal, heartbreaking folly of this chapter in America's history, and along the way delves into the freakish physics of extreme cold. This is a book best read with a fire roaring in the hearth and a blanket and box of tissues near at hand."
— Erik Larson, author of Isaac's Storm and The Devil in the White City