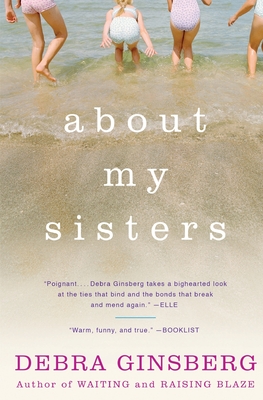 About My Sisters
Paperback

* Individual store prices may vary.
Description
On the heels of her poignant and critically acclaimed memoirs, Waiting and Raising Blaze, Debra Ginsberg explores the unique connection she shares with her three sisters.
In About My Sisters, Ginsberg examines the special bond she shares with her three sisters, May, Lavander and Deja. As her hippie parents criss-crossed the globe, Debra, the oldest of five children, formed indelible bonds with her three sisters that last to this day. Separated by fifteen years among them, Debra and her sisters represent two different generations, each one of them having something to teach the other. Debra and Maya (the next oldest) became not only babysitters, but also playmates, problem solvers, teachers and surrogate mothers to the youngest two. And the shared experience of being the children of an unconventional, dope-smoking, non-career oriented, nomadic couple bonded them even more.
Structured around the course of one year, About My Sisters examines these bonds through the prism of the events of that year, revealing not only a "different" family, but also a unique and amazing relationship that has weathered many storms but never foundered. The four sisters (as well as their parents and brother) still live within ten miles of one another and share meals, holidays, joys, pains, and babysitting duties with an astounding frequency. This is a heart-warming, funny, and poignant look at a family that's much like the one we all wish we had..
Praise For About My Sisters…
"A rich celebration of life ...Loving and candid, as the best family stories are." — Kirkus Reviews
"With eloquence, deep feeling and altruism, Ginsberg depicts the life of her family ...as entertaining as a novel." — Publishers Weekly
"A big-hearted look at the ties that bind and the bonds that break and mend again." — Elle
Harper Perennial, 9780060522032, 320pp.
Publication Date: February 15, 2005
About the Author
Debra Ginsberg is the author of Waiting: The True Confessions of a Waitress and Raising Blaze: Bringing Up an Extraordinary Son in an Ordinary World. A graduate of Reed College, she is a contributor to NPR's All Things Considered and the San Diego Union-Tribune "Books" section.
Why do you think the author structured the book so each chapter corresponds with a month of the year?
How does the relationship the author has with her sisters differ from your relationships with your siblings, or from those of other sisters you know?
How much is this truly a "sister" story, and how much a larger "family" story, or really a "memoir" in the traditional sense?
The sisters' brother, Bo, makes only cameo appearances, but he's clearly adored by his sisters, and at the same time, given his space. How do you think a man with sisters grows up differently from one who has only brothers, or is any only child?
In the author's own words, About My Sisters is about the "unbreakable, special bonds of sisterhood as seen through the lives of four sisters." Do you think sisterly bonds are truly unbreakable? What about other kinds of family bonds?
The Ginsberg family lives in much closer proximity to one another than many large families in the western world. How do you think physical distance impacts family bonds?
Have you ever had the experience of "parenting" a sibling? Do you think it's an inherent responsibility older siblings have for their younger siblings? How does it affect family dynamics?
Near the end of the book, while out to eat with her sisters, the author says, "Sisters are always girls, somehow." What do you think she meant? Do you agree?