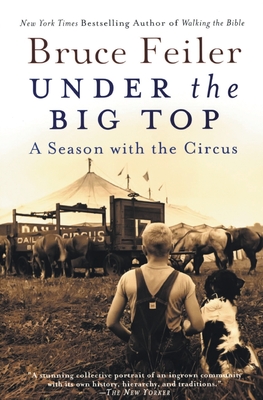 Under the Big Top: A Season with the Circus (Paperback)
A Season with the Circus
Harper Perennial, 9780060527020, 288pp.
Publication Date: March 25, 2003
Description
Both a great American adventure and a rare entry into asheltered world, Under the Big Top describes one man's pursuit of every child's fantasy: running away to join the circus. Bruce Feiler's unforgettable year as a clown will forever change your view of one of the world's oldest art forms and remind you of how dreams can go horribly wrong -- and then miraculously come true.
Praise For Under the Big Top: A Season with the Circus…
Praise for UNDER THE BIG TOP"A stunning collective portrait of an ingrown community with its own history, hierarchy, and traditions."
-The New Yorker

"Inspirational."
-New York Times

"Bruce Feiler is a keen and thoughtful observer...he forces circus goers to see the familiar spectacles anew."
-New York Times Book Review

"A colorful, sometimes unsettling, pageant of circus life."
-Entertainment Weekly

"As irresistible as cotton candy, as attention-grabbing as the death-defying trapeze act."
-Indianapolis Star

"A gritty, haunting story."
-People

"Sure-handed...dark-hued...extraordinary."
-Christian Science Monitor

"Startling...romantic...seductive."
-Denver Post

"Spellbinding...captivating...truly touching."
-Princeton Times

"A mud and sweat-filled, but ultimately loving portrait of the circus."
-New York Post

"Incredible...exciting...unbelievable..."
-Chattanooga Free Press

"Writing beautifully...Bruce Feiler penetrates the heart and soul of circus life with such stark clarity."
-Douglas Brinkley, author of The Majic Bus: An American Odyssey

"A three ring triumph...the best book ever written about the circus."
-Jim Foster, editor of The White Tops
Advertisement