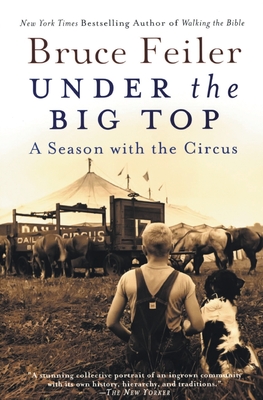 Under the Big Top
A Season with the Circus
Paperback

* Individual store prices may vary.
Description
Both a great American adventure and a rare entry into asheltered world, Under the Big Top describes one man's pursuit of every child's fantasy: running away to join the circus. Bruce Feiler's unforgettable year as a clown will forever change your view of one of the world's oldest art forms and remind you of how dreams can go horribly wrong -- and then miraculously come true.
Praise For Under the Big Top: A Season with the Circus…
Praise for UNDER THE BIG TOP "A stunning collective portrait of an ingrown community with its own history, hierarchy, and traditions." — The New Yorker
"Inspirational." — New York Times
"Bruce Feiler is a keen and thoughtful observer...he forces circus goers to see the familiar spectacles anew." — New York Times Book Review
"A colorful, sometimes unsettling, pageant of circus life." — Entertainment Weekly
"As irresistible as cotton candy, as attention-grabbing as the death-defying trapeze act." — Indianapolis Star
"A gritty, haunting story." — People
"Sure-handed...dark-hued...extraordinary." — Christian Science Monitor
"Startling...romantic...seductive." — Denver Post
"Spellbinding...captivating...truly touching." — Princeton Times
"A mud and sweat-filled, but ultimately loving portrait of the circus." — New York Post
"Incredible...exciting...unbelievable..." — Chattanooga Free Press
"Writing beautifully...Bruce Feiler penetrates the heart and soul of circus life with such stark clarity." — Douglas Brinkley, author of The Majic Bus: An American Odyssey
"A three ring triumph...the best book ever written about the circus." — Jim Foster, editor of The White Tops
William Morrow Paperbacks, 9780060527020, 288pp.
Publication Date: March 25, 2003
About the Author
Bruce Feiler is the author of six consecutive New York Times bestsellers, including Abraham, Where God Was Born, America's Prophet, The Council of Dads, and The Secrets of Happy Families. He is a columnist for the New York Times, a popular lecturer, and a frequent commentator on radio and television. He lives in Brooklyn with his wife and twin daughters.