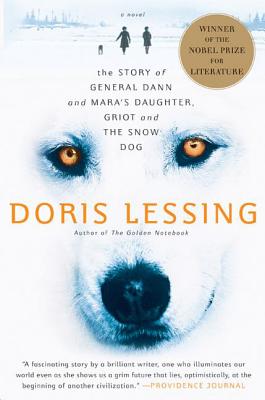 Story of General Dann and Mara's Daughter, Griot and the Snow Dog
A Novel
Paperback

* Individual store prices may vary.
Description
"Doris Lessing is one of the most important writers of the past 100 years, a shrewd visionary. . . . Her new, short, haunting novel . . . succors us with . . . unforgettable visual images. We shiver and marvel as we lose ourselves in time."— The Times (London)
In her visionary novel Mara and Dann, Doris Lessing introduced a brother and sister battling through a future landscape defined by extreme climates in the north and south. In this new novel the odyssey continues. Dann is grown up, hunting for knowledge and despondent over the inadequacies of his civilization, traveling with his friend, a snow dog who saves him from the depths of despair. Here, too, are Mara's daughter and Griot with the green eyes, an abandoned child-soldier who discovers the meaning of love and the ability to sing stories.
Like its predecessor, this brilliant novel from one of our greatest living writers explains as much about our world as it does about the future we may be heading toward.
Praise For Story of General Dann and Mara's Daughter, Griot and the Snow Dog: A Novel…
"A fascinating story by a brilliant writer, one who illuminates our world even as she shows us a grim future that lies, optimistically, at the beginning of another civilization." — Providence Journal
"Exquisite prose . . . [Lessing] has imagined a world unlike any other in science-fiction literature." — Fort Worth Star-Telegram
"Lessing's Ifrik — with its bands of emaciated and glassy-eyed refugees, its communities willfully blind to the calamities of war and drought that stalk them, its dearth of gentleness — is [a] compelling character here, one worth meeting as we ponder what our own climate change has in store for us." — Washington Post Book World
"[Full of] Lessing's acute observations . . . this dystopia, underscored by its reluctant hero's existential dilemma . . . resembles a classical myth." — Publishers Weekly
"Exquisitely told." — Booklist
"One of the greatest writers in the world today . . . It is daunting and courageous to write about the future as Lessing has done . . . One is drawn to it by Lessing's gift as a storyteller." — Guelph Mercury (Ontario)
"Haunting." — Calgary Herald
"On the surface a grand adventure, this novel at its heart makes a fascinating argument for the force of affection and the power of the questioning mind." — The New Yorker
"Mara and Dann has the shape of a myth or a folktale . . . But the book's proportions are those of an epic . . . Vividly rendered." — New York Times Book Review
"A substantial achievement, the latest remarkable book from a seemingly inexhaustible writer . . . There is a serious case to be made for placing Lessing's science fiction at the center of her oeuvre." — Boston Globe
"A gripping adventure novel . . . Lessing is at the top of her form, blending ideas and action in a splendid, imaginative tale." — The Oregonian (Portland)
"A hegira of hardships and dangers . . . Provocative and stimulating." — Newsday
"Doris Lessing remains one of contemporary fiction's genuine thinkers and visionaries, and it would be folly to ignore her." — Kirkus Reviews
"Tenderly perceptive . . . A resounding affirmation of humanity and what it holds dearest, from one of our most gifted storytellers." — Publishers Weekly (starred review)
"Provocative and stimulating." — Los Angeles Times
"A fascinating story by a brilliant writer... Lessing's prose is straightforward, uncomplicated and clear. Her characters are complex and vivid." — Providence Journal
"Exquisite . . . [Lessing] has imagined a world unlike any other in science-fiction literature." — Fort Worth Star-Telegram
"Lessing convinces us through her perseverance as she narrates the excess of human striving and failing, dragging us through terrible suffering and fear the length of a continent. She earns the feeling of exhaustion with which she leaves us…Her art lies in her vivid depiction of the endless ups and downs of human stories…" — Women's Review of Books
Harper Perennial, 9780060530136, 288pp.
Publication Date: December 26, 2006
About the Author
Winner of the 2007 Nobel Prize in Literature, Doris Lessing was one of the most celebrated and distinguished writers of our time, the recipient of a host of international awards. She wrote more than thirty books—among them the novels Martha Quest, The Golden Notebook, and The Fifth Child. She died in 2013.
or
Not Currently Available for Direct Purchase