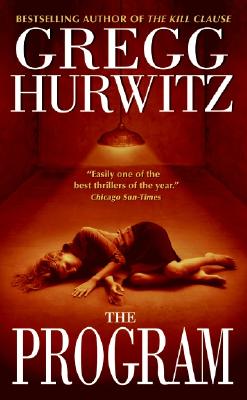 The Program (Mass Market)
A Novel
HarperTorch, 9780060530419, 464pp.
Publication Date: August 30, 2005
Other Editions of This Title:
Hardcover (8/31/2004)
MP3 CD (11/1/2005)
* Individual store prices may vary.
Description
The series that started it all!
In this powerful follow-up to his action-packed thriller The Kill Clause, Gregg Hurwitz, the new maestro of pulse-pounding suspense, ratchets up the excitement with another sensational page-turner featuring Tim Rackley, a driven lawman motivated by honor, morality, and a deep sense of justice.
Called back into the fold of the U.S. Marshals Service, Tim is tasked with retrieving Leah Henning, the daughter of a powerful Hollywood producer, from a mind-control cult. As Tim wends his way deep undercover into an insidious operation called The Program, he confronts a brand of mind-warping manipulation beyond his worst expectations.
Tim becomes enmeshed with a diverse band of characters—from the charismatic, messianic leader T. D. Betters to a cult reject burnout to the intelligent yet highly vulnerable Leah herself—and finds himself caught in a shadowy landscape of lies, manipulation, and terror. At stake: innocent minds—maybe even his own.
About the Author
Gregg Hurwitz is the critically acclaimed author of The Tower, Minutes to Burn, Do No Harm, The Kill Clause, The Program, and Troubleshooter. He holds a B.A. in English and psychology from Harvard University and a master's degree from Trinity College, Oxford University. He lives in Los Angeles.
Praise For The Program: A Novel…
"Hurwitz has been tapped as a younger, hipper Grisham…he certainly delivers in terms of pure, propulsive readability."
— Washington Post

"Grounded in character and believable detail, Hurwitz's thriller engages on every level."
— Publishers Weekly

"Fascinating…intriguing…Filled with well-drawn characters, meticulous research and pulse-pounding action…easily one of the best thrillers of the year."
— Chicago Sun-Times

"A cut above the usual thriller, with a cast of intriguing and complex characters who never fall into stereotype."
— Capital Times

"Extraordinarily satisfying...A gripping read from start to finish."
— Booklist

"Hurwitz again shows that he is a remarkable crime fiction writer, a solid member of the genre's top echelon"
— Mystery News

"A white–knuckle journey…A compelling, riveting, dead–smart thriller…If you haven't discovered Gregg Hurwitz yet, get to a bookstore!"
— Janet Evanovich

"Tough, true, well–written, and memorable as Hell. Dray and Tim Rackley are uniquely believable and sympathetic heroes."
— James Patterson

"Thriller writing at its best…taut, energetic prose that sucks you in and holds you till the very last page."
— Tess Gerritsen

"THE PROGRAM is pure nail-biting, stay-up-all-night suspense. Gregg Hurwitz rocks."
— Harlan Coben

"Gregg Hurwitz handcuffs you to his story and holds your emotions hostage. Once you enter THE PROGRAM, there's no leaving."
— Ridley Pearson

"A rip–roaring thrill ride… A stick to your fingers read by a novelist at the top of his game."
— Stephen J. Cannell