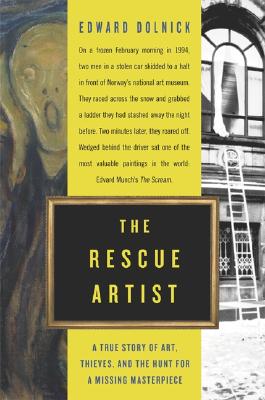 The Rescue Artist (Hardcover)
A True Story of Art, Thieves, and the Hunt for a Missing Masterpiece
Harper, 9780060531171, 288pp.
Publication Date: June 28, 2005
Other Editions of This Title:
Paperback (6/27/2006)
Compact Disc (11/27/2018)
MP3 CD (11/27/2018)
Compact Disc (11/27/2018)
* Individual store prices may vary.
Description
In the predawn gloom of a February day in 1994, two thieves entered the National Gallery in Oslo. They snatched one of the world's most famous paintings, Edvard Munch's The Scream, and fled with their $72 million trophy. The thieves made sure the world was watching: the Winter Olympics, in Lillehammer, began that same morning. Baffled and humiliated, the Norwegian police called on the world's greatest art detective, a half-English, half-American undercover cop named Charley Hill.
In this rollicking narrative, Edward Dolnick takes us inside the art underworld. The trail leads high and low, and the cast ranges from titled aristocrats to thick-necked thugs. Lord Bath, resplendent in ponytail and velvet jacket, presides over a 9,000-acre estate. David Duddin, a 300-pound fence who once tried to sell a stolen Rembrandt, spins exuberant tales of his misdeeds. We meet Munch, too, a haunted misfit who spends his evenings drinking in the Black Piglet Café and his nights feverishly trying to capture in paint the visions in his head. The most compelling character of all is Charley Hill, an ex-soldier, a would-be priest, and a complicated mix of brilliance, foolhardiness, and charm. The hunt for The Scream will either cap his career and rescue one of the world's best-known paintings or end in a fiasco that will dog him forever.
About the Author
Edward Dolnick is the author of Down the Great Unknown, The Forger's Spell, and the Edgar Award-winning The Rescue Artist. A former chief science writer at the Boston Globe, he lives with his wife near Washington, D.C.
Praise For The Rescue Artist: A True Story of Art, Thieves, and the Hunt for a Missing Masterpiece…
"The Rescue Artist is a masterpiece. Engrossing, entertaining, often surreally hilarious."
— —Mary Roach, author of Stiff: The Curious Lives of Human Cadavers on The Rescue Artist

"The narrative's frequent detours to other crimes and engaging escapades...elevate this work above last year's similar The Irish Game."
— —Publishers Weekly

"A big shout-out to Edward Dolnick for The Rescue Artist."
— —Geoffrey Jennings, Rainy Day Books, Fairway KS

"There has never been a better book on art crime."
— Milton Esterow, ArtNews

"An entertaining account of the eternal struggle between high art and low cunning."
— Time magazine

"Riveting...fascinating."
— Los Angeles Times

"There has never been a better book on art crime."
— ArtNews

"Dolnick...writes with a crisp, breezy style that runs with the speed of thieves purloining stolen canvases."
— Donald Harington, Atlanta Journal-Constitution
or
Not Currently Available for Direct Purchase