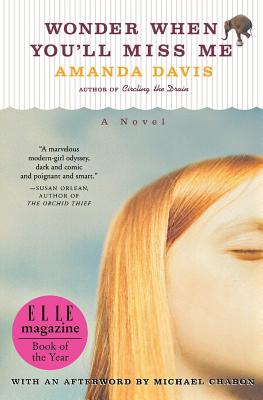 Wonder When You'll Miss Me (Paperback)
Harper Perennial, 9780060534264, 263pp.
Publication Date: March 16, 2004
Description
At fifteen, Faith Duckle was lured under the bleachers by a bunch of boys and brutally attacked. Now, almost a year later, a newly thin Faith is haunted by her past and by the flippant, cruel ghost of her formerly fat self who is bent on revenge.
Faith eventually turns to violence for retribution, forcing her to flee home in search of the only friend she has -- a troubled but caring busboy who is the lover of a sideshow performer -- and to tumble into the colorful, transient world of the circus. But as she dives headfirst into a world of adult passions and dreams, mercurial allegiances, and exhilarating self-discovery, Faith must also face some disturbing truths about herself and the world around her.
Praise For Wonder When You'll Miss Me…
"Heartbreaking."
-Kirkus Reviews

"Amanda Davis writes gently, even poetically about extraordinary brutality. She has a distinctively creepy, even noirish sensibility."
-New York Times Book Review

"An utterly unique take on what it means to run away and join a circus."
-Elizabeth Strout, author of AMY AND ISABELLE

"This book is a circus Pygmalion -- a spectacular tale of injury, heartbreak, and metamorphosis."
-Jonathan Ames, author of The Extra Man

"At the end of this rich and satisfying novel...I did not want to leave."
-Michelle Chalfoun, author of Roustabout and The Width of the Sea

"This is a marvelous modern-girl odyssey, dark and comic and poignant and smart."
-Susan Orlean, author of The Orchid Thief

"Amanda Davis has a wicked and inspired imagination."
-Brady Udall, author of The Miracle Life of Edgar Mint

"This is such a good book--the voice is so engaging, heartbreaking and true."
---Susan Richards Shreve, author of Plum & Jaggers

"A story that is at once harrowing and, strangely, filled with adventure."
-Michael Chabon, author of SUMMERLAND
Advertisement