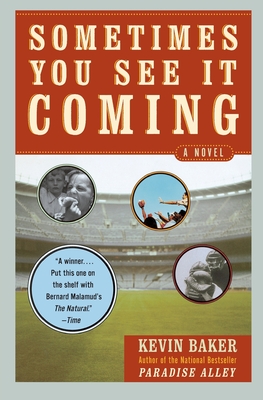 Sometimes You See It Coming (Paperback)
A Novel
Harper Perennial, 9780060535971, 336pp.
Publication Date: June 3, 2003
* Individual store prices may vary.
Description
Based in part on the life of baseball legend Ty Cobb, this book belongs in the pantheon of great baseball novels.
John Barr is the kind of player who isn't supposed to exist anymore. An all-around superstar, he plays the game with a single-minded ferocity that makes his New York Mets team all but invincible. Yet Barr himself is a mystery with no past, no friends, no women, and no interests outside hitting a baseball as hard and as far as he can. Not even Ellie Jay, the jaded sportswriter who can out-think, out-drink, and out-write any man in the press box. She wants to think she admires Barr's skill on a ballfield, but suspects she might be in love with a man who isn't really there.
Barr leads the Mets to one championship after another. Then chaos arrives in the person of new manager Charli Stanzi, well-known psychopath. Under Stanzi's tutelage, the team simply falls apart. Then Barr himself inexplicably starts to unravel. For the first time in his life, his formidable skills fail him, and only Ellie Jay and another can help - if he will let them. Hanging in the balance are his sanity, the World Series, and true love.
About the Author
Kevin Baker is the bestselling author of the novels Dreamland, Paradise Alley, and Sometimes You See It Coming. He is a columnist for American Heritage magazine and a regular contributor to the New York Times, Harper's, and other periodicals. He lives in New York City with his wife, the writer Ellen Abrams, and their cat, Stella.