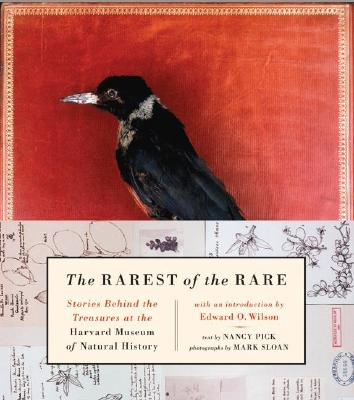 The Rarest of the Rare (Hardcover)
Stories Behind the Treasures at the Harvard Museum of Natural History
Harper, 9780060537180, 192pp.
Publication Date: November 1, 2004
Other Editions of This Title:
Paperback (9/17/2015)
* Individual store prices may vary.
Description
Where do you find Nabokov's butterflies, George Washington's pheasants, and the only stuffed bird remaining from the Lewis and Clark expedition? The vast collections of animals, minerals, and plants at the Harvard Museum of Natural History are among the oldest in the country, dating back to the 1700s. In the words of Edward O. Wilson, the museum stands as both "cabinet of wonder and temple of science." Its rich and unlikely history involves literary figures, creationists, millionaires, and visionary scientists from Asa Gray to Stephen Jay Gould. Its mastodon skeleton -- still on display -- is even linked to one of the nineteenth century's most bizarre and notorious murders.
The Rarest of the Rare tells the fascinating stories behind the extinct butterflies, rare birds, lost plants, dazzling meteorites, and other scientific and historic specimens that fill the museum's halls. You'll learn about the painting that catches Audubon in a shameful lie, the sand dollar collected by Darwin during the voyage of the Beagle, and dozens of other treasures in this surprising, informative, and often amusing tour of the natural world.
Praise For The Rarest of the Rare: Stories Behind the Treasures at the Harvard Museum of Natural History…
"The Rarest of the Rare is a wonderful book."
-Susan Orlean, author of The Orchid Thief

"Every specimen has a story, some of which involve murder, derring-do, luck and pluck. Great pictures and great reading."
-Minneapolis Star Tribune

"The book is charming and curious--it creates an irresistible urge to return to the museum."
-Boston Globe

"Pick spins short, sweet tales of scientists' derring-do and wonder over the exuberance of nature."
-USA Today

"This look at an eclectic collection...is charming and beautifully photographed."
-Cincinnati Enquirer

"Gorgeous...The picture of the armadillo rolled up in a perfect ball is worth the sticker price all by itself."
-Journal News

"A fascinating look at some of the specimens in Harvard's natural history museum."
-Seattle Times

"A wonderful account of where this and a lot of other weird stuff came from...its scientific and historical value."
-San Jose Mercury News

"A gorgeous gift book ... Artful photos and a lively text conjure beauty, science -- and mystery!"
-Parade Magazine

One of the 20 best science books of 2004.
-Discover magazine
or
Not Currently Available for Direct Purchase