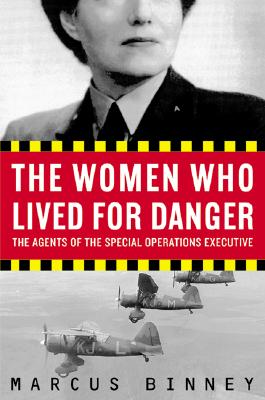 The Women Who Lived for Danger
The Agents of the Special Operations Executive
Hardcover

* Individual store prices may vary.
Other Editions of This Title:
Paperback (10/5/2004)
Description
The Special Operations Executive was formed by Winston Churchill in 1940 to "set Europe ablaze." In the SOE women were trained to handle guns and explosives, work undercover, endure interrogation by the Gestapo, and use complex codes. In The Women Who Lived for Danger, acclaimed historian Marcus Binney recounts the story of ten remarkable women who were dropped in occupied territories to work as secret agents.
Once they were behind enemy lines, theirs was the most dangerous war of all, as they led apparently normal civilian lives while in constant danger of arrest. They organized dropping grounds for arms and explosives destined for the Resistance, helped operate escape lines for airmen who had been shot down over Europe, and provided Allied Command with vital intelligence. SOE women agents came from all walks of life: from the dazzling Polish Countess Krystyna Skarbek (alias Christine Granville) and the American Virginia Hall, who was from a rich Baltimore family, to Marguerite Knight, a secretary in Walthamstow. Petite Lisa de Baissac lived next to Gestapo headquarters in Poitiers playing the part of a quiet widow, while twenty-year-old student Paola Del Din was sent to find a way through the German front line in Florence. Hot-tempered Paddy O'Sullivan deflected a German officer from examining her suitcase by making a date with him, and Alix d'Unienville feigned madness when captured.
The stories of these women agents -- some famous, some virtually unknown -- are told with the help of extensive new archive material. Their exploits form a new chapter of heroism in the history of warfare matched only by their determination, resourcefulness, and ability to stay cool in the face of extreme danger.
Praise For The Women Who Lived for Danger: The Agents of the Special Operations Executive…
"True-life espionage adventures far beyond any fictional James Bond movie. "
— Times Colonist (Victoria, BC)
William Morrow, 9780060540876, 400pp.
Publication Date: September 30, 2003
About the Author
Marcus Binney is an accomplished historian and writer who is the author of Our Vanishing Heritage, Townhouses, and Airports. Binney attended Cambridge, and has lectured extensively to historical societies in New York, Boston, Rhode Island, and Virginia on architectural preservation and history. He has also fronted a thirty-nine-part series -- Mansions: The Great Houses of Europe -- broadcast in the U.S. between 1993 and 1997.
Binney's interest in the lives of the agents of the SOE is a personal one. His father, Lt. Col. Francis Simms, MC, walked seven hundred miles through the Apennines after twice escaping from POW camps. His mother, Sonia, did secret work with code breakers during the war and in 1955 remarried Sir George Binney, DSO, also a war hero, who had carried out one of the most successful blockade-running operations of World War II in 1941 -- bringing back five unarmed merchant ships from Sweden through the minefields.
or
Not Currently Available for Direct Purchase