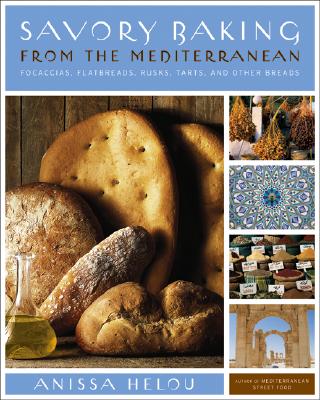 Savory Baking from the Mediterranean (Hardcover)
Focaccias, Flatbreads, Rusks, Tarts, and Other Breads
William Morrow Cookbooks, 9780060542191, 352pp.
Publication Date: August 7, 2007
* Individual store prices may vary.
Description
The Mediterranean is full of varied and diverse cuisines, but the one thing they all share is a basic reliance on bread. From Italian focaccia and French brioche to Lebanese tabouneh (sourdough pita) and Egyptian fiteer (flatbread), bread is the single most important staple in Mediterranean diets, and serves as the foundation for countless other savory dishes. In Savory Baking from the Mediterranean, Anissa Helou presents a collection of classic and favorite recipes that will provide home cooks with a broad overview of Mediterranean savory baking, from countless variations on flatbreads like pita, focaccia, and lavash, to raised breads such as French Bacon Bread, Greek Spinach and Olive Bread, and Italian Nut Bread. In addition, she offers recipes for a wide variety of pies, tarts, and savory pastries, such as calzones, empanadas, pizzas, and spanakopitta. Savory Baking from the Mediterranean is illustrated through out with 100 artful black and while photographs of landscapes, communities, and breads.
About the Author
Anissa Helou is a writer, journalist, and broadcaster. Born and raised in Beirut, Lebanon, she knows the Mediterranean as only a well-traveled native can. Lebanese Cuisine, her first book, was nominated for the prestigious Andre Simon Award and was named one of the best cookbooks of 1998 by the Los Angeles Times. Mediterranean Street Food was described by the New York Times as "a marvelous book." It won the Gourmand World Cookbook Award 2002 as the best Mediterranean cuisine book in English. Helou lives in London, where she has her own cooking school, Anissa's School. She appears frequently on British television and radio. She has written many articles for the Weekend Financial Times, and has contributed to several other publications including Gourmet, the Chicago Tribune, and the Washington Post. An accomplished photographer and intrepid traveler, Helou is fluent in French and Arabic as well as English.
Praise For Savory Baking from the Mediterranean: Focaccias, Flatbreads, Rusks, Tarts, and Other Breads…
"Annisa Helou's books are the only hopeful sign I see coming out of the Middle East these days..."
— Raymond Sokolov, author of A Canon of Vegetables

"Anissa Helou has brought back wonderful recipes...and presents them with engaging charm..."
— Claudia Roden, author of Arabesque: A Taste of Morocco, Turkey, and Lebanon

"...a comprehensive look at a fascinating subject."
— - Nancy Harmon Jenkins, author of Cucina del Sole

"...Hurray for [Anissa's] regional research. My copy bristles with many markers; my fingers yearn to plunge into the doughs."
— Carol Field, author of The Italian Baker, Celebrating Italy, and Italy in Small Bites

"Anissa has done it again; I wouldn't have believed it possible... Her newest contribution will inspire many bakers.
— Mark H. Furstenberg, Founder of Marvelous Market and The BreadLine and co-owner of Ma-Mi Bistro and Bakery

I love the spirit of this book.
— Alice Waters, Chez Panisse

"Helou has created a paean to the foundation of Mediterranean food."
— Publishers Weekly

"...unlocks the mysteries of all these lovely little breads..."
— NPR.org

A New York Times Best Book of 2007 "If Western notions of 'the Mediterranean diet' are moving from naive cliches to better understanding, writers like Anissa Helou have had a lot to do with the change..."
— New York Times