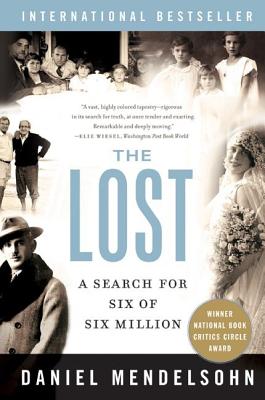 The Lost (Paperback)
Harper Perennial, 9780060542993, 516pp.
Publication Date: August 21, 2007
* Individual store prices may vary.
Description
In this rich and riveting narrative, a writer's search for the truth behind his family's tragic past in World War II becomes a remarkably original epic—part memoir, part reportage, part mystery, and part scholarly detective work—that brilliantly explores the nature of time and memory, family and history.
Praise For The Lost…
"Epic and personal, meditative and suspenseful, tragic and at times hilarious, The Lost is a wonderful book."
-Jonathan Safran Foer

"A beautiful book, beautifully written."
-Michael Chabon

"A stirring detective work, The Lost is … deepened by reflections on the inescapable part that chance plays in history."
-J. M. Coetzee

"Daniel Mendelsohn has written a powerfully moving work of a "lost" family past. . . . A remarkable achievement."
-Joyce Carol Oates

"Mendelsohn, a classicist, creates a stunning Odyssey here, an epic world-wandering."
-Garry Wills

"An excellent memoir. . . . The Lost . . . brings to life the struggle of an entire generation."
-People (four stars)

"A stunning memoir. . . . As suspenseful as a detective thriller, and as difficult to put down."
-Francine Prose, O, The Oprah Magazine

"The Lost is a sensitively written book that constantly asks itself the most difficult questions about history and memory."
-BookForum

"A grand book, an ambitious undertaking fully realized."
-The Forward

"A magnificent and deeply wise book. . . . Mesmerizing. . . . Mendelsohn's accomplishment is enormous."
-The Los Angeles Times Book Review

"The Lost is the most gripping, the most amazing true story I have read in years."
-Charles Simic, The New York Review of Books

"A stunning achievement. . . . Extraordinary."
-Rebecca Goldstein, The New York Observer

"Hugely ambitious yet intensely engaging. . . . Absorbing, novelistic. . . . Thought-provoking and original."
-Ron Rosenbaum, The New York Times Book Review (front cover)

"Stunning. . . . A singular achievement, a work of major significance and pummeling impact."
-Samuel G. Freedman, The Chicago Tribune