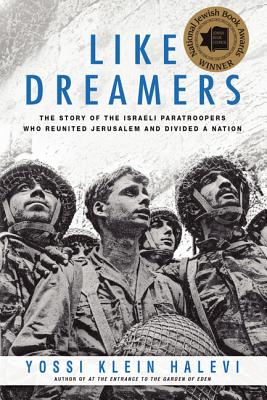 Like Dreamers (Paperback)
The Story of the Israeli Paratroopers Who Reunited Jerusalem and Divided a Nation
Harper Perennial, 9780060545772, 624pp.
Publication Date: November 4, 2014
Other Editions of This Title:
Digital Audiobook (12/22/2013)
Hardcover (10/1/2013)
Compact Disc (12/23/2013)
Compact Disc (12/23/2013)
MP3 CD (12/23/2013)
* Individual store prices may vary.
Description
In Like Dreamers, acclaimed journalist Yossi Klein Halevi interweaves the stories of a group of 1967 paratroopers who reunited Jerusalem, tracing the history of Israel and the divergent ideologies shaping it from the Six-Day War to the present.
Following the lives of seven young members from the 55th Paratroopers Reserve Brigade, the unit responsible for restoring Jewish sovereignty to Jerusalem, Halevi reveals how this band of brothers played pivotal roles in shaping Israel's destiny long after their historic victory. While they worked together to reunite their country in 1967, these men harbored drastically different visions for Israel's future.
One emerges at the forefront of the religious settlement movement, while another is instrumental in the 2005 unilateral withdrawal from Gaza. One becomes a driving force in the growth of Israel's capitalist economy, while another ardently defends the socialist kibbutzim. One is a leading peace activist, while another helps create an anti-Zionist terror underground in Damascus.
Featuring an eight pages of black-and-white photos and maps, Like Dreamers is a nuanced, in-depth look at these diverse men and the conflicting beliefs that have helped to define modern Israel and the Middle East.
About the Author
Yossi Klein Halevi is an American-born writer who has lived in Jerusalem since 1982. He is a senior fellow of the Shalom Hartman Institute in Jerusalem and the author of At the Entrance to the Garden of Eden: A Jew's Search for God with Christians and Muslims in the Holy Land and Like Dreamers: The Story of the Israeli Paratroopers Who Reunited Jerusalem and Divided a Nation, which won the Jewish Book Council's Everett Family Book of the Year Award for Best Jewish Book in 2013. Together with Imam Abdullah Antelpi of Duke University, he co-directs the Hartman Institute's Muslim Leadership Initiative. He and his wife, Sarah, have three children.
Praise For Like Dreamers: The Story of the Israeli Paratroopers Who Reunited Jerusalem and Divided a Nation…
"Powerful…. a textured, beautifully written narrative…. There is much to admire in this book, especially Mr. Halevi's skill at getting inside the hearts and minds of these seven men."
— Ethan Bronner, New York Times

"Mr. Halevi's masterly book brings us into [the]…debate and the lives of those who live it, not through fiction but through a factual account illuminated by his own intelligence and empathy."
— Elliott Abrams, Wall Street Journal

"Brilliant."
— David Laskin, USA Today

"Like Dreamers is a big book, perhaps the big book on Israel we have been waiting for…. [It] is a remarkable feat of reporting, thrilling, painful, and brilliantly recounted, and an unparalleled portrait of Israel's last five decades."
— Don Futterman, Daily Beast

"A magnificent book, one of the two or three finest books about Israel I have ever read…. Nothing explains more eloquently why Israel, more than most any other country, lives or dies based on the power and justice of its animating ideas."
— Jeffrey Goldberg, Bloomberg News

"Yossi Klein Halevi has written the Israeli epic."
— Michael Oren, best-selling author of Six Days of War and Israeli Ambassador to Washington

"Like Dreamers is quite simply the best book about modern Israel I have ever read."
— Jonathan Rosen, author of Joy Comes in the Morning.

"Yossi Klein Halevi has long been the most incisive and eloquent journalist writing from Israel for an American audience. This is his masterpiece. "
— Samuel G. Freedman, author of Jew vs. Jew

"Like Dreamers is at once magisterial and enthralling, observed with the sharp eye of a master journalist, the patience of a serious historian and the style of an exceptional storyteller."
— Zev Chafets, author of Roger Ailes: Off Camera

"A fascinating study of modern Israel."
— New York Post

"Halevi's book is executed with imagination, narrative drive, and, above all, deep empathy for a wide variety of Israelis, and the result is a must-read for anyone with an interest in contemporary Israel and the Israeli-Palestinian conflict."
— Publishers Weekly (starred review)

"[Halevi] tracks the…lives of seven of the Brigade 55 members.… [He] succeeds in his broader goal of linking these men and their families to Israel's history during the past five decades. This is a beautifully written and sometimes heartbreaking account of these men, their families, and their nation."
— Booklist (starred review)

"An artful, affecting blend of history, biography, political science, and religion and an illustration of how small lights can illuminate a large landscape."
— Kirkus Reviews

"Like Dreamers is an eye-opening, beautifully written account, told through the lives of seven iconic Israeli paratroopers, of the shaping of the state we live in."
— Times of Israel

"Brilliant…. It would make a terrific movie, or even a new book in the Bible…"
— Jewish Week

"As a work of political, cultural, and religious history, Like Dreamers is a triumph."
— Jewish Voice

"With compassion and moral imagination, Mr. Halevi helps us see why each side came to the conclusions that it did. In the process, he gives us an unforgettable taste of what he calls 'the agonizing complexity of Israel's dilemmas'."
— NY1, video review

"Like Dreamers is a sweeping work… a rich and complex narrative…. And it reads like a novel."
— Tower magazine

"Yossi Klein Halevi's brilliant account of Israel's left-right divide is a spellbinding story of people's evolving views and of conquest's mixed blessings."
— American Jewish World News

"In his new, magisterial book about Israel, Like Dreamers…Yossi Klein Halevi has… captured the complexity of Israel in human terms."
— New Jersey Jewish News