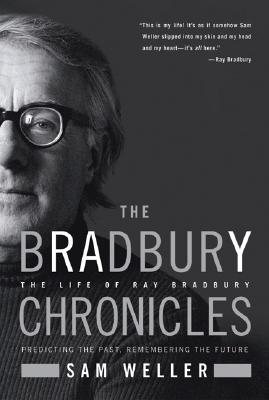 The Bradbury Chronicles (Hardcover)
The Life of Ray Bradbury
William Morrow, 9780060545819, 400pp.
Publication Date: April 5, 2005
Other Editions of This Title:
Paperback (2/21/2006)
* Individual store prices may vary.
Description
Ray Bradbury is an American literary icon, an architect of wonders whose life has been as fascinating, momentous, and inspiring as his fiction, which has enthralled millions of readers the world over for more than six decades.
Born Rae Douglas Bradbury on August 22, 1920, in Waukegan, Illinois, he displayed an affinity for the fantastic at an early age -- spending hours at the local movie theater, fighting his fear of the dark to escape into glorious made-up worlds. Though he once dreamed of becoming an actor, writing was his true calling, and he remained resolute in his art throughout his early adult years despite numerous rejections -- finally breaking through with publications of his horror and fantasy stories in the "pulp" magazines of the forties. It was not long before he ascended to a higher literary plane, creating the acclaimed works that would solidify his place as one of the most important and influential authors of the twentieth century: Fahrenheit 451, The Martian Chronicles, The Illustrated Man, and Dandelion Wine, to name a very few.
Award-winning journalist Sam Weller has been granted unparalleled access to Bradbury's private archives, and has spent hundreds of hours interviewing longtime friends, family members, colleagues, and the author himself. As a result, Weller gives us a uniquely balanced, in-depth, and utterly remarkable portrait of a remarkable man, the life story up until now of a brilliant visionary artist and enigmatic mass of contradictions -- the writer who envisioned rocket travel to the stars but who never learned to drive a car; the futurist who brought astonishing tomorrows to life yet refuses to operate a computer; the passionate free spirit who remained devotedly married to one woman -- his beloved Marguerite -- for more than fifty years.
The Bradbury Chronicles is, at once, a poignant love story, an inspiring tale of struggle and accomplishment, and a spellbinding record of an extraordinary era in America's history and the man who helped define it. Here is Ray Bradbury -- dreamer, author, humanist, poet, innovator -- a one-of-a-kind literary force of nature whose extraordinary life can now be celebrated along with the enduring masterworks with which he has graced the world.
About the Author
Sam Weller is the authorized biographer of Ray Bradbury and a two-time Bram Stoker Award finalist. He is the author of The Bradbury Chronicles: The Life of Ray Bradbury (William Morrow, 2005), and Listen to the Echoes: The Ray Bradbury Interviews (Melville House Publishers/Stop Smiling Books, 2010). Weller has written for the Paris Review, National Public Radio, and is the former Midwest Correspondent for Publishers Weekly. His short fiction has been published in numerous journals and magazines.
Mort Castle is a horror author and a writing teacher who has published over 500 short stories. Twice a winner of the Black Quill award, seven times a Bram Stoker Award nominee, Castle edited On Writing Horror, the primary reference work for dark fiction authors. He lives near Chicago with Jane, his wife of 40 years.
Praise For The Bradbury Chronicles: The Life of Ray Bradbury…
"For Bradbury fans, THE BRADBURY CHRONICLES is essential. . . . [A]n engaging, often fascinating tale."
— New York Times Book Review

"A fascinating look at a man's work -- and the incredible evolution of an alien subgenre."
— Chicago Tribune

"A highly readable story . . . informative, enjoyable, and inspiring."
— School Library Journal
or
Not Currently Available for Direct Purchase