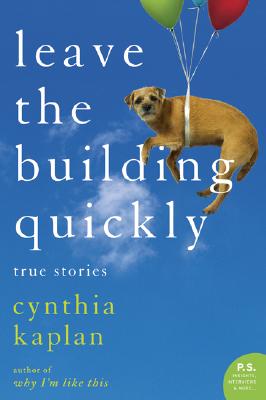 Leave the Building Quickly (Paperback)
True Stories
Harper Perennial, 9780060548520, 240pp.
Publication Date: May 6, 2008
* Individual store prices may vary.
Description
Cynthia Kaplan, acclaimed author of Why I'm Like This, once again casts her gimlet eye upon the current state of her affairs. Also of your affairs, and some other people's affairs as well. Journey with her as she humiliates herself in a variety of locales and fearlessly takes on all the important issues of the day—including her family, intelligent design, Narnia, and New England's deer population.
Leave the Building Quickly is a hilarious, moving, bitingly honest, take-no-prisoners incursion into the kind of real-life daily circumstances that inspire us to crouch in the linen closet at three in the morning. But that's okay because Kaplan's there, too. And she's brought snacks.
About the Author
Writer and actress Cynthia Kaplan's essays have been published in many newspapers, magazines, and anthologies, and she is the author of the collection Why I'm Like This. She has appeared in clubs, theaters, and on film, but never on Law & Order. She lives in New York City with her husband and children.
Praise For Leave the Building Quickly: True Stories…
"Wise, poignant and often hilarious. Kaplan serves perfectly mixed narratives that are one part melancholy, two parts wry."
— Booklist

"Wonderful, no-holds-barred wit. Raucously funny, extremely personal and always on target. Makes for perfect summer reading."
— Tucson Citizen

"Funny, sweet, poignant. Will alternately make you laugh and hit you with a surprisingly strong emotional punch."
— Cleveland Jewish News

"Hilarious…Personal and universal at the same time."
— A.J. Jacobs, author of The Year of Living Biblically