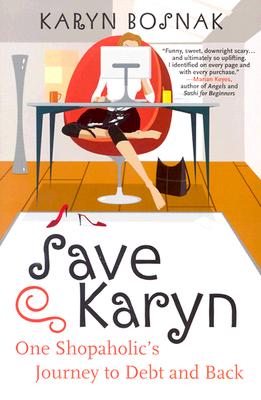 Save Karyn (Paperback)
One Shopaholic's Journey to Debt and Back
William Morrow Paperbacks, 9780060558192, 464pp.
Publication Date: September 2, 2003
* Individual store prices may vary.
Description
Drowning in $20,000 of credit card debt, shopaholic Karyn Bosnak asked strangers for money online -- and it worked!
What would you do if you owed $20,000? Would you: A) not tell your parents? B) start your own website that asked for money without apology? or C) stop coloring your hair, getting pedicures, and buying Gucci? If you were Karyn Bosnak, you'd do all three.
Karyn started a funny yet honest website, www.savekaryn.com, on which she asked for donations to help her get out of debt. Karyn received e-mails from people all over the world, either confessing their own debt-ridden lives, or criticizing hers. But after four months of Internet panhandling and selling her prized possessions on eBay, her debt was gone!
In Save Karyn: One Shopaholic's Journey to Debt and Back, Karyn details the bumpy road her financial -- and personal -- life has traveled to get her where she is today: happy, grateful, and completely debt-free. In this charming cautionary tale, Karyn chronicles her glamorous rise, her embarrassing fall, and how the kindness of strangers in cyberia really can make a difference.
About the Author
Karyn Bosnak spent her early working career as a daytime television producer for various talk shows, including Jenny Jones and The Ananda Lewis Show. She is the author of Save Karyn, an inspiration to shopaholics and women in credit card debt everywhere. She lives in New York City.