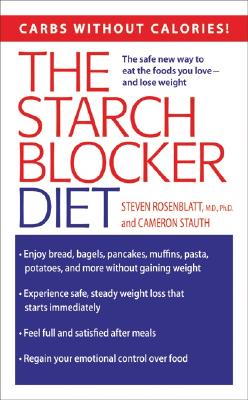 The Starch Blocker Diet (Mass Market Paperback)
Avon Books, 9780060559335, 384pp.
Publication Date: March 1, 2005
* Individual store prices may vary.
Description
Are starchy foods--breads, pasta, potatoes, grains--your dietary downfall? Here is a simple, safe, dramatically effective strategy to help you eat the foods you love--and lose weight.
Are high-carb, starchy foods--breads, pasta, potatoes--your dietary downfall? Here's a program that's almost sinfully satisfying but modest in calories, a new medical strategy based on 30 years of clinical testing that helps people lose weight without giving up their favourite foods.
Starch blockers are a natural, non-prescription partial protein derived from white kidney beans. Taken before meals, they bind with the enzyme that digests starch, so most starch passes through the body without releasing calories, similarly to fibre. There are no side effects, but a huge benefit: up to 1/3 of the calories you eat can be instantly, safely neutralized The Starch Blocker Diet provides a three-step program for achieving safe, lasting weight loss using starch blockers.
This no-hunger, non-denial strategy lets you eat a richly satisfying diet while still losing weight. You'll find formulas for individualizing the program to fit your personal caloric and lifestyle requirements, sample menus, and more than 100 delicious, high-starch recipes, many by James Beard Award Winning Chef Philippe Boulot.

o Perfect for people who want to lose weight without giving up the pancakes, muffins, bagels, breads, pasta, and potatoes they love.
o First weight program that safely directs the body to burn fat. Unlike low-cal diets, doesn't break down muscle or restrict nutrients. Unlike low-carb diets, doesn't rely on high-fat foods. Unlike low-fat diets, isn't based on high-carb calories, whichcan disrupt insulin.
o First weight program to relieve diabetes complications. Can arrest some symptoms of diabetes. Shown to control precursor conditions such as Syndrome X. First weight program with no side effects. Certified 100% free of physical side effects by researchers employed by the National Institutes of Health. Contains no stimulants/appetite suppressants. Doesn't raise cholesterol or trigger sense of deprivation.
or
Not Currently Available for Direct Purchase