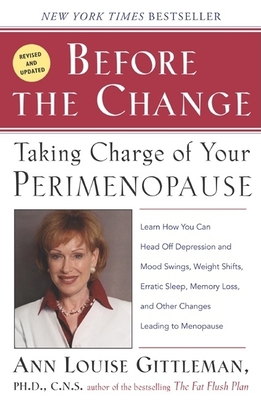 Before the Change (Paperback)
Taking Charge of Your Perimenopause
HarperOne, 9780060560874, 304pp.
Publication Date: December 23, 2003
* Individual store prices may vary.
Description
From renowned nutritionist and author of the bestselling Fat Flush Plan comes a revised and updated guide to taking charge of your perimenopause. Filled with the latest research as well as practical tips and menus, Gittleman also incorporates timely information, especially pertaining to Hormone Replacement Therapy.
Learn How You Can head off Depression and Mood Swings, Weight Shifts, Erratic Sleep, Memory Loss, and Other Changes Leading to Menopause.
Take charge of your perimenopause simply, safely, and naturally! This breakthrough book details a gentle incremental program for understanding your own changes and offers a wide range of options for taking care of yourself. By following the author's proven techniques for controlling the symptoms of perimenopause, you can continue to feel great through this vital phase of your life.
With this essential do–it–yourself program, you can say good–bye to hormone havoc and sail through your perimenopause, the period of about ten years leading up to menopause, by understanding and controlling its symptoms.
Before the Change.
.clearly explains the symptoms of perimenopause and offers a self–diagnosis quiz;
.details safe and natural alternatives to hormone therapy, including healing vitamins, minerals, herbs and natural hormones.gives you a powerful Changing Diet, with tips and recipes for foods that prevent and alleviate symptoms
About the Author
Ann Louise Gittlemanis an award-winning author of thirty books and a highly respected health pioneer. She has appeared on 20/20, Dr. Phil, The View, Good Morning America, Extra!, Good Day New York, CNN, PBS, CBS, NBC, MSNBC, CBN, FOX News, and the BBC. Her work has been featured in national publications including Time; Newsweek; Harper's Bazaar; O, The Oprah Magazine; Seventeen; Fitness; Cosmopolitan; Parade; USA Weekend; Woman's World; the New York Times; and the Los Angeles Times. Gittleman has been recognized as one of the top ten nutritionists in the country by Self magazine and has received the American Medical Writers Association award for excellence.
Praise For Before the Change: Taking Charge of Your Perimenopause…
"Loaded with exactly the kind of information women need to support their bodies during perimenopause."
— Christiane Northrup M.D., author of Women's Bodies, Women's Wisdom

"The best book ...on cooperating with nature as your body shifts gears in preparation for the powerful menopausal years."
— Joan Borysenko, Ph.D., author of Minding the Body, Mending the Mind and A Woman's Book of Life

"Before the Change is very readable, and its helpfullness is increased by its resource lists and product recommendations."
— Natural Health
or
Not Currently Available for Direct Purchase